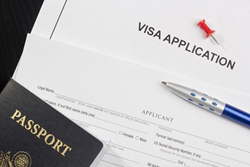 LOS ANGELES (PRWEB) February 09, 2018
A January 9th article on ABC7News reports on the plight of Salvadoran immigrants in the face of the Department of Homeland Security's (DHS) revocation of temporary protected status (TPS) for individuals from the nation of El Salvador. Los Angeles area immigration attorney Henry A. Posada says that, with all the understandable anxiety associated with today's immigration landscape, immigrants still have reason to stay hopeful and explore all of their legal avenues.
Mr. Posada says that the type of situation described in the ABC7News article, in which a Texas-based Salvadoran immigrant with a large family and an IT job, describes his fears of losing his career and contact with his family in the wake of the TPS reversal, is all too common. The attorney adds that many other individuals and families are faced with similar fears of deportation for numerous other reasons, but they should nevertheless try to carry on with their lives in as normal a manner as possible, albeit cautiously. For example, Mr. Posada notes that, even as the fate of DACA (aka, Deferred Action for Childhood Arrivals) hangs in the balance in congress, U.S. Citizenship and Immigration Services has announced that it is continuing to accept deferred action extension requests from young people who came into the country as children (i.e., Dreamers) for the time being.
It goes beyond that, adds Mr. Posada. He notes that immigrants benefit from certain basic rights and it is important that families and individuals know their rights and options they may have. The attorney adds that, in California, even immigrants who might seem to be facing insurmountable odds – i.e., individuals with criminal convictions in their backgrounds – may have access to a legal path known as post-conviction relief. This recent addition to the state penal code makes it possible for some immigrants to challenge past convictions and protect themselves from possible deportations.
All in all, Mr. Posada says that, while the legal situation has undoubtedly grown more complex for immigrants over the last twelve months, immigrants still have access to some promising legal pathways, particularly in California. At the same time, they need the assistance of competent legal counsel that is able to provide guidance.
Readers who are concerned about their own legal status or that of a loved one are invited to contact the Law Offices of Henry A. Posada at (562) 904-9080. They can also see the firm's web site at http://www.hposadalaw.com.