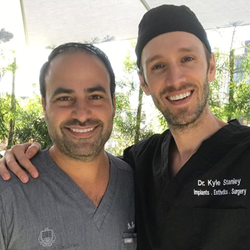 "Of course, the problems arise when we provide our patients with youthful-looking teeth but their lips remain aged. We are leading the way to change that disconnect, and it's long overdue." states Dr. Kyle Stanley
BEVERLY HILLS, Calif. (PRWEB) February 08, 2018
"We have been told to simply accept the position of the upper lip and base many of our esthetics decisions from this often aged or over-augmented length," states Dr. Kyle Stanley. "Of course, the problems arise when we provide our patients with youthful-looking teeth but their lips remain aged. We are leading the way to change that disconnect, and it's long overdue."
"Dr. Stanley and I are excited about introducing a paradigm shift in esthetic treatment planning where we can incorporate minimally invasive plastic surgery procedures to give our patients a fully integrated, youthful-looking lower face, better incisal display, and a treatment plan with an Orofacial approach," adds Dr. Ben Talei.
The learning objectives of "The Lip Factor: Unveiling Dental Beauty" with Live Surgery and Sponsored by Digital Smile Design, include learning the Modified Lip Lift technique to restore aging and over augmented lips to an ideal youthful position, learning how to plan treatment with an Orofacial approach, and learning how to incorporate adjunctive lower face procedures such as corner lifts and VY plasty to make patients look and feel great and highlight esthetic dental treatment.
This course is in English & Portuguese and being held at the Well Clinic, Sao Paulo, Brazil. Limited to 25 people it is sponsored by Digital Smile Design (DSD), a prestigious global company founded by Dr. Christian Coachman, which seeks to present a new face of dentistry – more human, emotional and artistic. And also more efficient and precise through digital technology, further enhancing the noble dental profession in society. DSD believes there are not many things that are more important than a healthy, natural, confident and beautiful smile. DSD Global, which is recognized worldwide as the premiere way to elevate dental clinics, makes its technology systems and resources readily available for turnkey operation in private practice.
More about Drs. Stanley and Talei
Dr. Kyle Stanley, a partner at Helm Nejad Stanley Dentistry, focuses on restoring and reconstructing missing teeth and enhancing smiles through gum and implant surgery. Dr. Stanley is also a dedicated researcher who has published in top international dental journals, and a Key Opinion Leader for leading dental implant companies, helping to teach the latest and best techniques, and develop new and improved products. A professor at the University of Southern California School of Dentistry, Dr. Stanley lectures on digital implant treatment planning. To learn more about Helm Nejad Stanley Dentistry please visit http://www.HNSdentistry.com or call 310-278-0440.
Dr. Ben Talei, owner and founder of the Beverly Hills Center for Plastic & Laser Surgery, received his medical degree at the University of California, San Diego School of Medicine. Dr. Talei then went on to complete his residency training in Head and Neck Surgery at Columbia University and Cornell University Medical Centers, New York Presbyterian Hospital. Dr. Talei then became one of the only surgeons in the country to complete two separate fellowships in Facial & Plastic and Reconstructive Surgery. To learn more about Dr. Talei please visit the new website http://www.beverlyhillscenter.com or call 310-288-0641.