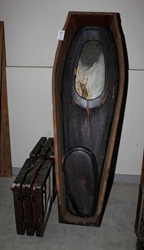 MaxSold lists everything - from a chicken plucker to fine art - to maximize both clear out and net sale value through competitive bidding within tight real estate timelines
NEW YORK (PRWEB) February 13, 2018
In the process of clearing out the contents of a home, many hidden treasures can resurface. An old photo album, or a treasured toy can often bring back many good memories. However, there can also be some unusual pieces, like caskets and life size mechanical clowns that make you say "How Did That Get There?"
MaxSold, the fastest growing Estate and Downsizing sales company in North America, recently created a video and a list of the Top 10 Weirdest Things Sold At An Estate Sale highlighting some really weird items throughout the years at their online estate sales.
Some highlights:
● A 3000 lbs Anchor
● A Large Rusted Chicken Plucker
● A 6'5" Predator Statue Made Out of Car Parts
● A Life Size Mechanical Clown
"Downsizing or organizing a traditional estate sale can be a stressful experience, especially for seniors." says Sushee Perumal, CEO of MaxSold. MaxSold's founder Barry Gordon, a second generation auctioneer, inducted into the National Auctioneers Hall of Fame, noted that, "Many online auction companies and estate sale providers cherry pick what they believe to be the nicer items, not solving the problem for the client. However, MaxSold lists everything - from a chicken plucker to fine art - to maximize both clear out and net sale value through competitive bidding within tight real estate timelines."
About MaxSold: MaxSold, the largest and leading on-site online auction service, with a presence in 35 metros in North America, is the best way to sell decades of possessions easily when downsizing, relocating, settling an estate or fundraising. Unlike traditional Estate Sales, MaxSold is able to achieve a near-100% sell rate with quick turnarounds and a proven process. Practically everything can be sold – from fine art, antiques china, silver and tools, right down to furniture and garden tools. Unlike eBay or Craigslist, the MaxSold team manages the sale process from start to end.