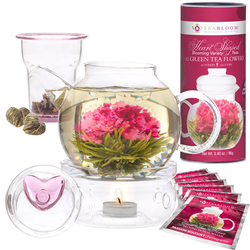 The Perfect Gift for Your Valentine
FORT LAUDERDALE, Fla. (PRWEB) February 09, 2018
Teabloom, a South Florida tea company that seeks to create healthier products, bodies and relationships, has officially announced the availability of three new tea gift sets, just in time to make an ideal Valentine's Day gift for that special someone.
The first of the three new options to debut is the Valentine Flowering Tea Gift Set. The set includes a beautiful 36-ounce hand-blown glass teapot with a Valentine's themed lid and a romantic pink infuser. The set also includes a collection of heart-shaped, blooming green tea flowers that unfurl in the teapot, infusing romance with every petal.
The second collection is the Wings of Love Blooming Tea Set. This vibrant collection features a 40-ounce teapot with an infinity symbol etched into its delicate body, and the glass lid features a multicolored butterfly. It also includes an infuser and a collection of 12 blooming tea varieties that will blossom with life in the teapot.
Finally, Teabloom has also released the Rose Flowering Tea Set. Like the previous two sets, this one includes a stunning hand-blown glass teapot. The lid features a lovely pink rose on top, and the set includes a collection of 12 rose blooming teas, as well as a tea infuser.
Note that all teapots are stovetop, dishwasher and microwave safe. All sets also include a tea warmer to ensure the soothing beverage can be enjoyed at the optimum temperature.
Each of these gift sets was carefully chosen to create a romantic ambience, but also to ensure that special someone can relax with a cup of delicious, uplifting, healthy tea sourced from some of the most discerning growers in the world. Elegant and sophisticated, delicate and colorful, bright and vibrant – these tea gift sets help eloquently express that message of love and adoration.
To learn more about Teabloom's delightful new gift sets, or about the company itself, visit https://Teabloom.com.
About Teabloom: Teabloom was founded in Fort Lauderdale by John Romano on the simple idea that tea could be healthy, enjoyable and memorable, while bringing people together through shared experiences. The company focuses on sourcing the highest quality teas, and ensuring the perfect cup is brewed each and every time.