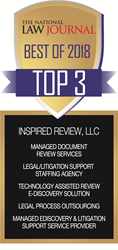 "Inspired Review has earned their reputation and these awards by being innovators and disruptors surrounding the business of law." - Michael Dalewitz, Founder and CEO
NEW YORK (PRWEB) February 09, 2018
Inspired Review, the Legal Industry's most Innovative Document Review Firm, once again earned the highest accolades in this year's edition of the annual Best of the National Law Journal Survey.
The Awards include:

Managed Document Review Services
Legal and Litigation Support Staffing
Technology Assisted Review eDiscovery Solution
Legal Process Outsourcing
Managed eDiscovery and Litigation Support Service Provider
Since they have won their categories four years ago, Inspired Review, became the Legal Industry's First Hall of Fame Provider for eDiscovery and Document Review Services.
"Inspired Review has earned their reputation and these awards by being innovators and disruptors surrounding the business of law. As the Pioneers of "VDR", Virtual Document Review, we have paved the way for the next decade of how legal documents will securely get reviewed with tremendous cost-effectiveness and unrivaled accuracy. We are continuing to put tremendous investment into developing the best technologies, process and transparency to help our clients solve their most critical matters," said Michael Dalewitz, Founder and CEO of Inspired Review.
Continued Dalewitz, "This award would not be possible without all the forward thinkers in eDiscovery that have taken the leap of faith for innovation in the legal field and made Inspired Review, the standard to follow for Document Review.
"I am so proud of my team, who works with such drive, passion and white-glove client service to push Inspired Review to the top of these rankings year after year."
The awards are based on a readership survey of The National Law Journal in which more than 7,500 votes were cast by readers to select their favorite products and services.
About Inspired Review
Founded in 2013, Inspired Review is the most groundbreaking document review firm in the legal industry and the Pioneer of Remote Document Review. With advances in data security and skills testing and metrics technology, through its proprietary software, ReviewRight, Inspired Review has built the largest network of highly qualified document review attorneys in the United States. Inspired Review ensures the defensibility of your review and minimizes the risk of error through statistically validated quality control, developed in-depth validation and targeted search methodologies. Inspired Review is also very concerned with igniting change in the world by giving back. A percentage of all the company's profits are donated to a monthly sponsored charity.