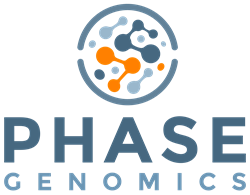 From sample to sequencer in just two days.
SEATTLE (PRWEB) February 10, 2018
Phase Genomics, the global leader in proximity-guided genome assembly technology, today announced the launch of a Hi-C library prep kit for human samples. The announcement was made ahead of the AGBT 2018 conference in Orlando, Florida to introduce this game-changing technology to the biomedical research community. This is the fourth Hi-C kit released by the company following the previous releases of ProxiMeta™ Hi-C kits for metagenomics and Proximo™ Hi-C kits for plants and animals.
"Proximo Hi-C allows the high-resolution analysis of complex structural rearrangements in the genome, using only common benchtop tools and inexpensive short-read sequencing," said CEO, Dr. Ivan Liachko. "We think the availability of this method will greatly improve current oncogenomic and other clinical research efforts and, in time, will lead to powerful diagnostic tools."
The new Hi-C kit for human samples features a rapid and robust version of the popular chromosome conformation capture method, Hi-C, which measures the genomic proximity of DNA in vivo to provide structural information on any genome. This information captures ultra-long range genomic contiguity from small sample sizes and without the need for the extraction of high-molecular-weight DNA. When paired with the Phase Genomic's platforms, researchers can reconstruct entire chromosomes, deconvolute metagenomes and detect structural variation at high resolution.
The Human Hi-C kit includes all reagents necessary to generate an indexed, Illumina-compatible Hi-C library and full customer support. To order a Hi-C kit or for more information, contact info(at)phasegenomics(dot)com or visit http://www.hickit.com.
ABOUT PHASE GENOMICS - Phase Genomics, Inc. is based in Seattle, WA and was founded in 2015 by a team of genome scientists, software engineers, and entrepreneurs. The company's mission is to empower researchers of all kinds with state-of-the-art genomic tools. The company serves academic and commercial researchers in diverse fields and industries.