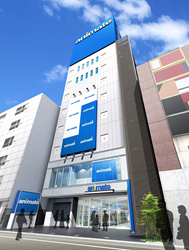 Animate is committing to making it easier and safer for global fans to purchase purchase authentic, licensed anime merchandise.
TOKYO (PRWEB) February 15, 2018
Animate Ltd., Japan's leading company in anime goods retail, has been making major steps towards becoming more accessible to online shoppers with a complete overhaul of their online store, Animate Online Shop Japan - including a special focus on improving their services for international customers.
Animate specializes in CDs, DVDs, Blu-rays, character goods and other merchandise relating to anime, manga and games, and are famous among fans of Japanese media for offering exclusive freebies, bonuses and original limited editions.
Recently, they have made huge steps to expand their services to customers from around the world. In 2017 they launched the global online store named Animate International and began running social media in both English and Chinese, and their February 8 2018 complete overhaul of the Animate Online Shop Japan includes a steam-lined signup process and new special pages designed especially for English and Chinese speaking customers. With the additional announcement of newly established customer support in native English and Chinese, as well as plans to add Alipay to payment options at the Animate Online Shop Japan by Spring 2018, Animate is committing to making it easier and safer for global fans to purchase authentic, licensed anime merchandise.
What's more, Animate is holding a wide range of special campaigns to celebrate the site update at the Animate Online Shop Japan. Customers are invited to vote on exclusive artworks based on Otomate works such as the Hakuoki series and Shiro to Kuro no Alice to be featured on original bonus items. They are also offering bonus site update commemorative pouches with 100 Sleeping Princes & the Kingdom of Dreams: U-TREASURE accessories, free shipping cover coupons, new member registration coupons reaching up to 20% off, re-releasing 2.5D Actor Trading Cards feat Ryo Kitamura and friends with rare bonuses from the original runs, and more. They are also holding a sale of up to 90% off selected anime figures, games and other merchandise in time for Chinese New Year, with a dedicated Chinese language page.
About Animate
Animate is Japan's largest anime shop chain, with more than 120 stores in all 47 Japanese prefectures. We also deliver limited edition products and exclusive bonuses which are available only through our stores and online shop. Through our exclusive products and services, we aim to become the go-to online shop for all your anime needs.