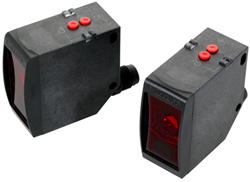 Florence, KY (PRWEB) February 09, 2018
For factory automation applications from packaging to automotive assembly, Balluff's newest distance sensor utilizes time of flight technology allowing for detection of objects at longer distances even with challenging surface characteristics. The BOD 23K sensor has easy integration and configuration by incorporating flexible outputs and pushbutton setup. Following the entire 23K portfolio this sensor housing is IP69K rated and Ecolab certified for food and beverage applications. For automotive assembly applications the 5 meter range, less than 5mm resolution and class 1 laser provide for exceptional positioning and error-proofing applications. "Configurable teach points combined with a scalable voltage/current analog output allow for flexible manufacturing applications to be achieved," shares Jack Moermond, Product Marketing Manager for photoelectric sensors.
"The introduction of this distance measuring sensor rounds out the 23K product family," adds Moermond. The full portfolio includes background suppression versions with red light, class 1 and class 2 light sources sensing and ranges up to 800mm. Diffuse versions with red light and class 2 light sources and ranges up to 2 meter. Polarized retroreflective varieties with red light and class 1 light sources and ranges up to 14 meters. Through-beam versions include red light and class 1 light sources and ranges up to 30 meters. Background suppression versions are easily setup with potentiometers while all other modes are configured with pushbutton teach.
Benefits

Reliable position detection independent of material or surface characteristics
Flexible integration with configurable outputs and easy configuration with pushbuttons
Precise and dependable measurement with high repeatability and good resolution
One part number fits many applications: scalable voltage/current analog output, selectable PNP/NPN, NO/NC discrete outputs with window function