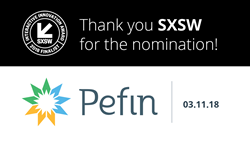 "We are honored by this nomination and thrilled that SXSW has created a platform to support and encourage interactive innovation."
NEW YORK (PRWEB) February 12, 2018
Pefin has been nominated and selected as a finalist in the interactive innovation category under New Economy, which honors those redefining the exchange of goods and services, from the sharing economy, to virtual currency, to micro-finance, to mobile-device-payment systems, and beyond. SXSW was founded in 1987 in Austin, Texas and is best known for its conference and festivals that celebrate the convergence of the interactive, film, and music industries.
Pefin's proprietary technology helps users navigate the important decisions that impact their long-term financial well-being -- from buying a house to starting a new job to saving for a child and retirement. It also provides personalized, actionable investment strategies that are tied to specific financial plans. Pefin's patent-pending AI platform provides the same level of intelligent guidance as a human advisor at 1/20th of the cost and is powered by over 2 million data points assuring that information is real-time. All of this for the cost of a few cups of coffee. Founder, Ramya Joseph, CEO, Catherine Flax and CTO, Jay Gopalakrishnan will be attending the festival and available to answer questions and provide demonstrations.
Pefin's goal is to inform attendees at SXSW on how to help people live their best financial life, regardless of age, gender, income, wealth, financial expertise or past mistakes.
SXSW is a pay-to-attend event held annually in Austin, Texas.Over 400,000 people attended in 2017 as SXSW continues to unify conferences.
SXSW takes place from March 9th through March 18th, 2018. Pefin will have a demonstration exhibit on Sunday, March 11th from 11:00am to 5:00pm at the Hilton Austin Downtown Convention Center, Salon CDE, 4th floor, located at 500 East 4th Street, Austin, Texas 78701. A special, invitation-only event for finalists and press will be held on Monday, March 12th. An awards ceremony announcing the finalists and winners of each interactive category will be held on Tuesday, March 13th, 2018 at 7:00pm- 8.30pm in the Grand Ballroom on the 6th floor.
THE PRESS MAY ACCESS PEFIN, FOR FREE, HERE: https://www.pefin.com/press
http://www.pefin.com Twitter @pefininc Facebook @pefinAI Instagram @pefininc