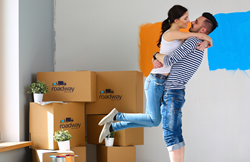 Professional movers can make your move faster and less stressful, and are less likely to damage your furniture, valuables or the walls of where you're moving (in and out).
NEW YORK (PRWEB) February 09, 2018
Between people who fall in love and those who break up, Valentine's day is a time when people can find themselves moving, often on short notice. Ross Sapir, president of Roadway Moving offers his 10 best tips to help make such a move easier, faster and less stressful.

Get organized. Make a list of things that must get done before the move, like booking the right movers, filling out change of address forms, gathering necessary documents, switching utilities etc. Also create a timeline for when to get these things done so you're not scrambling to do it all at the last minute.
Get all the supplies you need like boxes, tape, sharpies, bubble wrap, and get plenty of extra! You can always return what you don't need. Once you're on a roll with packing, you don't want to have to stop because you ran out of boxes.
Use colored tape or stickers to mark which boxes go in which rooms. Be sure to label boxes on their sides so you know what they are even when they're stacked.
Pack smart. Use Ziploc baggies to store small items from drawers, and to keep screws or wires with furniture and electronics. Store kitchen knives in potholders so they don't poke through boxes. Use clothing and towels in lieu of bubble wrap, and store small items inside larger ones when possible. Put your special valuables like family heirlooms and passports in a separate bag or box that you will keep with you at all times.
Get help from friends. Packing for an imminent move can be overwhelming, but especially in the case of heartbreak, having friends around can make many things easier.
Hire movers, even if you've got a few friends handy. Professional movers can make your move faster and less stressful, and are less likely to damage your furniture, valuables or the walls of where you're moving (in and out).
Pack a "last/first night" bag and an "open first" box. Make sure they contain a change of clothes and toiletries, and be sure to include the essentials you'll need on that first morning in your new home- like toilet paper, bottled water, plastic utensils, coffee maker and filters, pet food, phone charger and cleaning supplies.
Take before/after photographs of your valuables and your homes. This can be used to prove if damage occurred in a move, but can also be helpful when reassembling furniture and reconnecting electronics in a new place.
Accept Murphy's Law: something unpredictable WILL happen. Something might break or get misplaced; the moving truck could get stuck in traffic; you can't find the keys when you get to your new digs. Whatever it is, remember that with a big move and all the moving parts, something is bound to be less than perfect, and that's ok. Accept it and move on-moving is stressful enough without harping on things that are beyond your control.
About Roadway Moving Company
Established in 2008, Roadway Moving Company is one of the highest-rated moving companies in the NY Metro area (#1 on Yelp and Angie's List, A+ BBB rating) and provides residential and commercial local and long-distance moving. Roadway has more than 130 employees and does nearly 6,000 moves per year. The company offers storage services, as well as Roadway Black, a premier luxury moving service for valuable items such as priceless art, electronics and fine china. Roadway President and Owner Ross Sapir also created City Bins, an eco-friendly, rentable moving bin company. For more information, visit http://www.roadwaymoving.com.