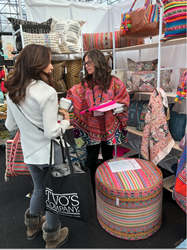 "The reaction to our new Spring Collection was fantastic," says Jamie Lauren, Pres/Designer of Jamie Lauren Designs, "we picked up 15 new clients." Lauren's custom one-of-a-kind products include handbags, vibrant ottomans and small furnishings made from authentic textiles from around the world.
BOULDER, Colo. (PRWEB) February 12, 2018
"The reaction to our Spring Collection was fantastic," says Jamie Lauren, president and chief designer of Jamie Lauren Designs, (http://www.JamieLaurenDesigns.com) a company she founded three years ago. This is Lauren's third season attending the NYNow show where her products were presented in Handmade Global Design. "We picked up 15 new retail customers," says Lauren, "which includes a mix of large and small speciality boutique retailers from across the country."
From oversized shoulder bags, finished with her signature hand-braided leather handle, to stunning oversize round and square ottomans, and colorful one-of-a-kind throw pillows - perfect for any room in the house. Lauren's vibrant and clever transformation of traditional textiles into modern day pieces has caught the attention of buyers, retailers and consumers. In fact, Jamie Lauren products have been featured in Architectural Digest, Boulder and Cherry Creek Lifestyle Magazines, and other fashion and furniture industry media.
"The seven day, two country scouting trip paid off," says Lauren, referring to her recent sourcing expedition in December where she trekked to remote villages in Peru and Guatemala in search of these hand-made fabrics. Back at her design studio, Lauren reimagines and transforms each piece into simply stunning creations hand-crafted by a team of talented artisans.
RETAILERS COAST-TO-COAST
Lauren's products are carried in 18 states, such as California, Colorado, Florida, Sante Fe, NY, and Connecticut , among others, by retailers such as ABC Home, Jayson Home, Lost and Found Shop, The Little Nell, Perez Art Museum, Annyx, and BD Jeffries.
New clients obtained at the NYNOW show include the following:
The Island Store - Bahamas
True - Denver, CO
Lost and Found Shop- Hollywood and Santa Monica, CA
Pure Soul Living - Puerto Rico
Hunter Gatherer - Napa Valley, CA
Beach House - Laguna Beach, CA
Leslie Flynt - Santa Fe, NM
Oliver Dunn - Washington, DC
Golden & Pine - Kansas City, MO
Town House - Darien, CT
Great House- Summit, NJ
Sev & Co. - New Hope, PA
Robin Gannon Interiors- Lexington, MA
Anichini - Vermont
Huetopia- Atlanta, GA
REPEAT CUSTOMER ORDERS
ABC Home - NYC and Brooklyn
FrangiPani - Miami, FL
Annyx - Sag Harbor, NY
Mandala Yoga - Amagansett, NY
Chez Suzette - Mexico
Found For the Home - Houston, TX
Perez Museum - Miami, FL
BD Jeffries - Atlanta, GA
Frank - Winter Park, FL
Clutch- Rye, NY
JAMIE LAUREN DESIGNS - SPRING COLLECTION PREVIEW GALLERY:
http://www.jamielaurendesigns.com/spring-release
ABOUT JAMIE LAUREN DESIGNS
Jamie Lauren Designs produces quality hand-crafted original accessories and small home furnishings for everyday enjoyment that go well beyond every day style. Unique and wonderfully unexpected, Jamie Lauren Designs brings a fresh and inspiring look that complements a wide range of style and décor from rustic to urban and in between.  Handbags, accessories, pillows and other small home furnishings are hand-made with fabric and leather from around the world to bring you storied traditions in a modern day style.
 
ABOUT THE ARTIST
East Coast native turned Colorado entrepreneur, Jamie left corporate work to pursue her creative spirit.  Inspired by the creative process, motivated by constant learning and energized by bold color, Jamie enjoys pairing the beauty of old traditions with fresh new ideas to produce results that are wonderfully unexpected.  She lives with her husband, two young children, and golden retriever Boulder, Colorado, a community known for its entrepreneurial and artistic nature.
———————  
Editors Note: High quality images of all products available.
http://www.JamieLaurenDesigns.com
Link to Spring Collection Gallery:
Media Contact: Jeff Mustard: 954-801-8263 | jeff(at)thebambooagency(dot)com