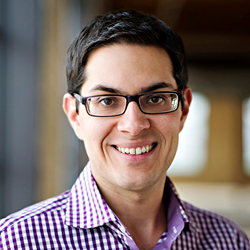 Some of the top leaders in the IT channel are on this list, and I'm thrilled that Auvik's reputation and industry leadership are being recognized. - Alex Hoff
WATERLOO, Ontario (PRWEB) February 12, 2018
CRN®, a brand of The Channel Company, has recognized Alex Hoff, VP Product and Sales at Auvik Networks, as a 2018 Channel Chief. The executives on this annual list are selected by CRN's editorial staff based on their professional achievements, high standing in the industry, consistent dedication to the channel partner community, and strategies for driving future growth and innovation.
Hoff is one of the co-founders of Auvik Networks, a cloud-based software company focused on making network management more efficient and profitable for IT managed service providers (MSPs). Since the company was founded in 2011, Alex has spearheaded product development, channel sales and partner success for Auvik, working closely with the channel to create a product that provides real value and solves a real problem for MSPs. Auvik has grown its partner base by over 200% this past year, spurred by Hoff and the team's expertise, curiosity, creativity, market focus, and Auvik's primary goal to work with MSPs to help build their businesses.
Prior to Auvik, MSPs could monitor and manage only a portion of their clients' networks—just endpoints and servers. There was no software solution to help them manage network devices, like firewalls, switches, routers, and wireless connectors. Auvik has filled a big gap in the channel's ability to provide complete managed services.
"It's a huge honor to be recognized as one of CRN's 2018 Channel Chiefs," says Alex Hoff. "Some of the top leaders in the IT channel are on this list, and I'm thrilled that Auvik's reputation and industry leadership are being recognized. Working with our MSP partners is a challenging and fulfilling job, and I'm grateful for the opportunity to grow our business along with theirs."
As VP of product and sales, Hoff spends his time travelling to channel events and customer sites to meet MSPs, learn about their businesses and share how proactive network management can boost their efficiency, productivity and profitability.
"The executives on CRN's 2018 Channel Chiefs list stand out for their leadership, vision and commitment to the channel," says Robert Faletra, executive chairman of The Channel Company. "They deserve recognition for their development and support of robust partner programs, innovative business strategy, and contribution to the health of the channel."
The full 2018 Channel Chiefs list can be viewed in the February issue of CRN Magazine, and online at http://www.crn.com/channelchiefs.
About Auvik Networks
Auvik is a network management solution that helps IT managed service providers improve the efficiency and profitability of their businesses. Auvik's cloud-based software provides MSPs with better network visibility, documentation, and monitoring capabilities, and automates many time-consuming network tasks. Auvik was named to the 2016 ChannelE2E 100 list, which identifies top innovators in the IT channel. Visit http://www.auvik.com or follow @AuvikNetworks on Twitter. Auvik is a registered trademark of Auvik Networks Inc.
About the Channel Company
The Channel Company enables breakthrough IT channel performance with our dominant media, engaging events, expert consulting and education, and innovative marketing services and platforms. As the channel catalyst, we connect and empower technology suppliers, solution providers and end users. Backed by more than 30 years of unequaled channel experience, we draw from our deep knowledge to envision innovative new solutions for ever-evolving challenges in the technology marketplace. http://www.thechannelco.com
CRN is a registered trademark of The Channel Company, LLC. All rights reserved.
Auvik media contact
Sarah Cunningham-Scharf
Marketing Content Specialist, Auvik Networks
sarah(at)auvik(dot)com
519-804-4700 x194
The Channel Company media contact
Melanie Turpin
The Channel Company
mturpin(at)thechannelco(dot)com
508-416-1195