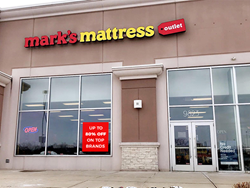 EVANSVILLE, Ind. (PRWEB) February 13, 2018
Mark's Mattress Outlet, a Premium Mattress Wholesaler, Manufacturer and Retailer offering up to 80% off names brand beds across 20+ retail stores throughout Indiana, Kentucky, and Tennessee, announced today the opening of 3 new mattress stores across the greater Indianapolis metro area.
Mark's Mattress Outlet is a leader in the Midwestern mattress market because of their ability to offer customers up to 80% off of top name brand mattresses every day. They're now making a name for themselves in other areas too, with 2 full, factory-direct mattress product lines, Sleep Natural™, & The American Collection.
Mark's Mattress Outlet founder and president, Mark Hisle, has crafted these beds artfully, which is why they are widely considered to be the best Tempur-Pedic alternatives.
To celebrate their 3 new Indianapolis area locations, Mark's Mattress is throwing a HUGE grand opening celebration that lasts the entire month of February! The new Avon, Southport/Greenwood, and Willow Lake locations will be offering big savings on adjustable bases, name brand mattresses, and their trademarked Sleep Natural™ Sleep Systems.
The best part - customers will also receive extended, zero-down financing offers on their Sleep Natural purchase.
Consumers will save up to $600 on Sleep Natural™ Sleep Systems, such as Mark's favorite choice, the Nightengale line of latex mattresses. Customers can also upgrade to an adjustable base for as little as $100 now through February 28th, 2018.
The deals don't stop there either - customers who purchase a mattress at one of the Indianapolis store locations will also receive a FREE gel memory foam pillow with their purchase, talk about a grand opening celebration!
Mark's Mattress Outlet and their Sleep Natural™ product line are truly poised to help others get great sleep again, in and around the Indianapolis area. When asked about the thought process behind the new Indy area locations and the Sleep Natural website, Hisle has this to say:
"Studies show that 85% of mattress consumers still want to touch and feel a product before they buy, however 27% of the same consumers would now also consider purchasing a bed online, especially those from younger generations. We wanted to be able to reach all of these people in the way that makes the most sense for them, so they can get the right mattress at the right price, and start getting better sleep tonight."
For more information, or to purchase a new mattress or bed accessory for your home, visit one of Mark's Mattress Outlet's new stores at the addresses below, or visit their website at https://marksmattress.com/grandopenings.
Avon. 9823 E. US Highway 36, Avon, IN 46123, (317) 820-3343
Southport/Greenwood. 7565 US 31 S, Indianapolis, IN 46227, (317) 893-4384
Willow Lake, 2424 Lake Circle Dr., Indianapolis, IN 46268(317) 388-5941
---
Mark's Mattress also plans on opening additional stores in Tennessee in coming months, so stay tuned.
Mark's Mattress Outlet is a privately held company that services customers across a tri-state area between Indiana, Kentucky, and Tennessee. Their focus is to bring customers high-quality, luxurious mattresses at affordable prices that don't break the bank. They reserve the right to change offers as needed based on price and inventory availability. Please contact them via their website with any further questions, comments, or inquiries