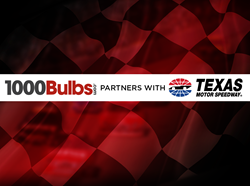 GARLAND, Texas (PRWEB) February 13, 2018
1000Bulbs.com has joined the Business Acceleration Club program launched by Texas Motor Speedway. The company is one of only 25 companies to be included in this exclusive organization that features a diverse range of members, from mid-size businesses to Fortune 500 companies. The club creates the unique opportunity to develop a network of local business contacts, as well as on-site marketing and customer engagement at the largest sports venue in Texas with a capacity of over 190,000 people.
"NASCAR is well-known for its intensely loyal fan base," comments Kim Pedersen, CEO of 1000Bulbs.com, "The club gives our company opportunity to strengthen relationships with local customers and vendors by connecting through our support of their favorite sport."
Texas Motor Speedway debuted the Business Acceleration Club with a soft roll-out for the AAA Texas 500 race in November of last year. In addition to business-to-business connections, the club aims to provide an affordable way to invest in fan engagement marketing during race events.
1000Bulbs.com plans to be front and center at Texas Motor Speedway in April with a primary sponsorship of David Ragan and the Front Row Motorsports No. 38 Ford Fusion. The branded car will be racing in the O'Reilly Auto Parts 500 for the Monster Energy NASCAR Cup Series on Sunday, April 8.
About 1000Bulbs.com:
1000Bulbs.com is an award-winning Internet-based lighting retailer. The company offers everything from simple, household light bulbs to cutting-edge specialty LED lighting systems. Nationally recognized for growth, innovation, and customer satisfaction, 1000Bulbs.com is an influential force in the lighting industry.
About Texas Motor Speedway:
Texas Motor Speedway is a 1.5-mile superspeedway located in Fort Worth, Texas. It plays host to two races in the Monster Energy NASCAR Cup Series, XFINITY Series and Camping World Truck Series as well as one in the Verizon IndyCar Series and SPEED Energy Stadium Super Trucks. Texas Motor Speedway is owned and operated by Speedway Motorsports, Inc., a publicly traded company that is a leading marketer and promoter of motorsports entertainment in the United States.
Contact:
Jeremy Foster
Vice President of Marketing and Product Development
1000Bulbs.com