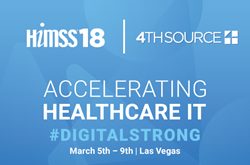 RCM improvements involve identifying process weaknesses, analyzing data you already have, and using that data to make better decisions
LAS VEGAS (PRWEB) February 13, 2018
4th Source, a leader in healthcare nearshore software development and IT services, today announced that it will share its healthcare expertise on how to leverage data and processes to improve revenue cycle management (RCM) at HIMSS18, Solutions Lab Kiosk #14036.
Revenue cycle management has become an integral process in today's healthcare environment.
4th Source has over a decade of healthcare and pharmacy industry experience to help customers drive financial and operational performance and improve clinical care and health system operations.
Deb Ferber, 4th Source EVP & General Manager of Healthcare, will discuss how any organization can use existing data and processes to improve RCM on Wednesday, March 7th from 2:00 – 2:20 pm at the Sands Expo Center Solutions Lab.
"Data entry errors can take a toll on hospital and pharmacy organizations. RCM improvements involve identifying process weaknesses, analyzing data you already have, and using that data to make better decisions," Ferber says.
RCM transparency is more important than ever as payment option variances can cause billing errors and revenue losses.
4th Source has successfully eliminated bad debt and revenue variances through process and system analysis while providing a seamless and integrated solution to prevent future errors. In one case, 4th Source built an early warning system which relies on machine learning and predictive analytics to detect potential bad debt scenarios before they occur.
4th Source's hospital and pharmacy RCM services include:

Data management
Data migrations
Process improvement
Automation
Digital transformation
HIMSS18 will be held on March 5-9, 2018 in Las Vegas, and 4th Source will be located at the Solutions Lab demonstrating practical IT solutions to improve hospital IT.
To learn more about how to leverage process analysis and data to optimize revenue cycles. Go to: http://www.himssconference.org/session/leveraging-your-own-data-improve-rcm
ABOUT 4TH SOURCE:
4th Source provides powerful, cost-effective IT services as an alternative to offshore outsourcing. Headquartered in Tampa, FL, 4th Source employs over 500 people in the US and Mexico, and helps performance-driven businesses become digital strong with IT services, business process services, data services, and application development.
The hybrid nearshore-onshore model offers convenient proximity, similar time zones, efficiency gains, and significant cost savings. Inc. Magazine has recognized 4th Source as one of the fastest growing companies in the U.S. six times.