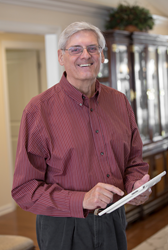 The thing now is aging in place. We don't plan to move any time soon to another part of the campus. That's another benefit of this cottage – to have an open floor plan on one level.
ELIZABETHTOWN, Penn. (PRWEB) February 15, 2018
Fred and Brenda Kaylor moved into their cottage in December 2017. From the outside, it looks like all the other brand new cottages at the Masonic Village at Elizabethtown. On the inside, though, is a laboratory for new technology that will be available for all residents of Masonic Villages of Pennsylvania.
"When the smart cottage was offered, we jumped right on it," Kaylor said. "It sounded like something exciting to take part in and experiment with. It is a learning process."
Masonic Villages has partnered with K4Connect, a technology company focused on serving and empowering older adults and individuals living with disabilities, to roll out new options which bring the latest technology directly to residents' fingertips.
In 2016, the Elizabethtown campus participated in a pilot to test K4Connect's home automation features (light switches, thermostats, pedometers, motion sensors, etc.). Residents have also been testing a portal, a specially designed application that serves as a single point of access for dining menus, campus news and updates, event calendars, games, photo/video sharing and more. Known as Village Connect, it is accessible through tablets and desktop computers and available for all residents.
Other features of the cottage include a thermostat and lights, which can be programmed through the Village Connect application on a tablet or smartphone. All the window blinds are automated, and the kitchen sink features a touchless faucet. The bathroom scale can also be linked to the application, and allows users to track their weight and body mass index. A sensor on the fridge door ensures it isn't left open and monitors whether it has been used over a designated period of time.
The cottage's infrastructure includes an air filtration system to clean the air. If something goes wrong with the furnace, the air conditioner or the lights, a maintenance worker will automatically be notified through K4Connect.
The Kaylors will have the chance to test additional options, which will help staff and other residents evaluate which ones are worth implementing. One of the benefits of K4Connect is that it's "future-proof."
As advancements are made in technology, new gadgets can be incorporated seamlessly. The cottage is not just about featuring the latest and greatest technology. It's also about keeping people happy, healthy and safe.
"The thing now is aging in place," Fred said. "We want to stay here in the cottage for a long time. We don't plan to move any time soon to another part of the campus. That's another benefit of this cottage – to have an open floor plan on one level. And to have the ability to be able to stay here and age in place."
The angled cabinets, counter tops, sink and easy-access pantry, as well as zero barrier showers and pocket doors, are all designed to accommodate a walker or wheelchair. Closets include different levels of shelves and bars. The backyard includes raised planters which can be used while standing or sitting. Residents can also opt for safety features such as bed sensors that monitor movement.
"In general, we absolutely love Masonic Village and all the facilities that it offers," Fred said. "Being here in the smart cottage is one piece of that. It can only get better."
The Village Connect portal is available to all retirement living residents at the Masonic Village at Elizabethtown and will be available to Masonic Villages' other campuses by the end of 2018. In addition, home automation features will be made available to residents who would like to select these features across all Masonic Villages by the beginning of 2019.
The Masonic Village at Elizabethtown is a not-for-profit continuing care retirement community, children's home and community service organization. The campus offers 665 retirement living apartments and 390 cottages, 135 personal care residences and 453 nursing, subacute and dementia care accommodations. The Masonic Villages also include communities in Dallas, Lafayette Hill, Sewickley and Warminster.