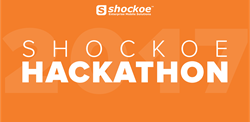 With the limited amount of time, Shockoe's team found innovative ways to tackle urban problems - this is a great example of open data being truly a valuable resource that helps solve civic problems and create new business opportunities.
RICHMOND, Va. (PRWEB) February 13, 2018
This past December, Shockoe gathered together with the goal of creating a working and fully-functional mobile application over the course of 48 hours. Each year's Hackathon has a different theme, and the goal of this year was to give back to the Richmond community. Whether it is helping cyclists move through the city more safely or providing aid to victims of domestic abuse, each application impressed and showed the heart behind every single idea.
"With the limited amount of time, Shockoe's team found innovative ways to tackle urban problems - this is a great example of open data being truly a valuable resource that helps solve civic problems and create new business opportunities. We are on the right track in helping put Richmond City along with its residents first." Andreas Addison, our First District City Council at City of Richmond, Virginia said as he reviewed each mobile application.
"I know it was said that we're not building apps to save lives, but if there's a chance that we can help just one person… then maybe we've done something good." Dan Cotting, one of Shockoe's Experience Designers said who was a part of the winning project, Stronger. An application designed and developed to provide emergency resources and a database for domestic abuse victims, this application represents the detail and care placed into the projects. Other fantastic projects included a tool to help Richmond residents communicate with their neighbors and specifically put them in touch with city representatives.
Below you can find all details on the mobile software applications Shockoe's team created over the course of 48 hours using open source data the city provided:
Empowering Victims through Stronger
This app was developed and designed with one constraint, the design must consist solely of words; the team created a tool that supports current and potential victims of domestic abuse to get help at various stages.The app allows victims to discreetly call 911 or their inner circle for help, evaluate their current situation for the potential of domestic abuse, find nearby sources of support, and help these victims follow through with action from law enforcement and/or social services by tracking protective orders and surfacing them with incident data.
Design Constraint: The entirety of the design must consist solely of words.
Lifting Up the Voiceless with Speakerboxx
Utilizing sentiment analysis to provide an overall snapshot of how social media users currently feel, Speakerboxx determines an overall reaction and surfaces the top five most positive and negative topics trending amongst the Richmond Metro Area. Doing this allows political figures and community leaders to get at-a-glance insight into their community's general feeling on certain topics. Leaders can always check in on how their city is doing and what may need more attention. Not only that, but citizens can view this as a way to gain more information about what's going on and what they can do to help when needed.
Design Constraint: Everything, including variables, needs to read as if it were written by Outkast.
Learning More About Your Local Neighborhood Government
In order to to solve problems of transparency in local government and confusion over who serves as an area representative, this Shockoe team created a tool called CollectiveAction. By using location services, users can learn more about government projects that could potentially impact the area they live in. CollectiveAction also provides an immediate way for constituents to contact their local representatives and discuss area issues with their local community via issues-based commenting and forums.
Design Constraint: Introduce a game mechanic in your application.
Delivering Donations from Restaurants to Nonprofits
The team behind Knock Knock aimed to partner with Richmond area nonprofit FeedMore in order to create a tool that would redistribute food items throughout the city. As of now, FeedMore will only pick up donations of over 400 lbs. Knock Knock would allow Richmond locals to volunteer to pick up donations under that 400 lb threshold. With Knock Knock, grocery stores, restaurants, and individuals can submit a request for a donation pickup along with how large that pickup is. A volunteer can accept the pickup, assign it to their route (if they have other pickups they have agreed to), and deliver the donation to FeedMore.
Design Constraint: Must use onomatopoeia in the application.
Real-Time Safety Information Just One Question Away
Lasso's mission was to make finding data about your neighborhood both fun and interactive.
Pulling in data from the city government's open data portal, Lasso shows the user key metrics and information about school districts, vehicular accidents, and crime data about the
area they are in. All the user needs to do is tap a button or use their voice and Lasso will use the phone's assistant to read out information to the user. At any time, users can take advantage of this tool to receive up-to-the minute information about their immediate surroundings.
Design Constraint: Design your application with a Western theme.
Community-Based Incident Reporting through Crime Alert
Leveraging open city data on crime reports and Richmond community areas, the team behind Crime Alert RVA created an application that allows users to instantly send incident details to the police while also warning their community of nearby dangers. The app has a host of features that helps ensure a community's safety, including map views of incidents, real-time push notifications as an incident nearby happens, emergency help contact tools, and detailed incident reporting.
Design constraint: Design in the style of Deconstructivism.
Protecting Cyclists Around Town
One of the primary methods of travel for many Richmond residents is their bicycle. Unfortunately, this leaves a large group of Richmond residents vulnerable to a number of dangers typically not considered by automobile drivers. ChainReaction is a mobile application that guides cyclists to their destination via the safest route. Not only does ChainReaction use accident data to provide these safer routes, it also takes real-time data into account to promote the best local attractions around the city, making any adventure safer.
Design constraint: Incorporate a game mechanic into the app.
Shockoe is very proud to have sponsored a civic hack focused on buildings experiences on mobile apps that measurably impact the daily tasks of individuals and organizations.
Our goal for 2018 is to select a few of these projects and ensure that they are made publicly available to those who need them most. If you are a non-profit, organization that can benefit from one of these applications, an investor or business interested in partnering with Shockoe to publish these apps, or simply want us to keep you informed of our progress, visit our page