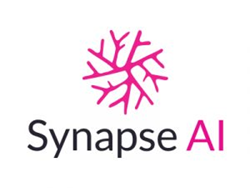 The Synapse.ai ecosystem opens data and AI barriers so that any entity of any size -- ranging from a single person, device, bot or commercial enterprise -- can contribute data or machine learning algorithms and earn massive innovation gains, data insights, and SYN tokens.
SAN FRANCISCO (PRWEB) February 10, 2018
Dan Gailey, CEO and founder of San Francisco artificial intelligence startup Synapse.ai and visionary behind its Decentralized Data and AI Marketplace, today announced via the Synapse.ai Telegram channel (https://t.me/synapseico) the official commencement of the Synapse.ai Tier 2 SYN token public sale. Investors can invest in Synapse.ai via the public sale at https://synapse.ai/ between February 12th until March 12th. The Synapse.ai Tier 2 SYN token sale follows the company's February 5 - 11 whitelist private token sale, which attracted more than US$7 million in investment in less than ten days. Gailey announced that the Tier 2 token sale soft cap is $1.5 million USD, and the hard cap is $15 million USD. The total supply of SYN tokens will be limited to a billion tokens, with 33 percent of all of tokens available for purchase during the public token sale.
Driving ongoing demand for SYN tokens are the decentralized data and machine learning marketplaces Synapse.ai is building, which will disrupt traditional business data sharing and machine learning sharing models by incentivizing data contributions and machine learning model innovation within the Synapse ecosystem. The effect of Synapse.ai's business model is rapid establishment and application of new machine learning models, to deliver massive gains to businesses, research entities and non-profits.
"The most sophisticated future innovations will utilize decentralized AI economies. The Synapse.ai ecosystem will open barriers around data and AI models so that any entity of any size - ranging from a single person to a commercial enterprise -- can assess or contribute data or machine learning algorithms and receive not only the reward of business and research advancement but also the reward of SYN tokens for doing so," said Dan Gailey, CEO. "Decentralizing and incentivising data sharing and machine learning model sharing will create an ever-growing AI centric marketplace with infinite potential applications, and drive global innovation at massive speed," said Gailey.
Synapse.ai's recent Decentralized AI Summit 2018 attracted more than 300 attendees and reporters, and featured AI and blockchain thought leaders from Google, IBM Watson, Microsoft, Slack, Amazon, Nvidia, Samsung and more outlining their current research and development projects in emerging AI economies.
About Synapse.ai: Synapse.ai is a ever-expanding decentralized AI ecosystem that empowers people and enterprises of all types and sizes with the ability to access and leverage other's data and machine learning models in personal, commercial, scientific and not-for-profit ways for innovation and insights that have never before been seen and to gain SYN tokens for their participation and contributions. This will unlock new and exciting sources of autonomous participation inside every industry. For more information and to participate in the Synapse AI Tier 2 token sale, visit https://synapse.ai/.
# # #