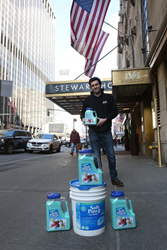 "In all the years I've attended the Westminster Kennel Club Dog Show, I can assure you of one thing: the weather will be unpredictable," said Charlotte Reed, pet and lifestyle expert. "It's so comforting to know sidewalks around the Westminster show will be safe and healthy for pets this year."
NEW YORK (PRWEB) February 11, 2018
When the 142nd Annual Westminster Kennel Club Dog Show opens in New York City next week, guests and their four-legged companions can be sure the sidewalks will not only be free of ice but safe for tender paws because Gaia Enterprises Inc is donating its proprietary ice melt, Safe Paw 100% Salt Free Ice Melt to select hotels. Safe Paw® Ice Melt is 100% salt-free and therefore safe for pets, children and the environment.
"We want to share Safe Paw® Ice Melt with these hotels because we are passionate about keeping pets safe at all times even as they travel to the Westminster show in New York City," said Steven Vernik, Vice President and Director of Operations for Safe Paw® Ice Melt. "Our research shows that any ice melt product that contains chlorides– and most ice melts do – can be harmful so we are happy and proud to contribute to the health of the 3,200 canines coming for the Westminster Show."
Especially for dogs, exposure to salt-based ice melters can pose danger. Often crystals sit on ice and snow surfaces before penetrating and the salt can get frozen into dog paws and fur then, once inside in warmer temperatures, the salt can burn the skin causing redness and ulcers which can lead to bacterial infections. Dogs can also develop intestinal and stomach problems from licking the salt-based products off their paws.
In addition to being safe for all surfaces including concrete, Safe Paw is safe if it happens to be ingested by pets and/or children.
"In all the years I've attended the Westminster Kennel Club Dog Show, I can assure you of one thing: the weather will be unpredictable," said Charlotte Reed, pet and lifestyle expert. "Safe Paw® Ice Melt is one of my go-to recommendations to keep paws safe and owners worry-free lest their pet ingest harmful chemicals that are contained in most other ice melts. It's so comforting to know sidewalks around the Westminster show will be safe and healthy for pets this year."
Each of the participating nine gold star hotels partnering with the Westminster Kennel Club for the annual event will receive 35-pounds of Safe Paw® Ice Melt to help keep their two-legged and four-legged guests safe. The hotels include (alphabetically): Comfort Inn Midtown West; DoubleTree by Hilton Hotel New York Times Square West; Holiday Inn Express Manhattan Times Square South; Holiday Inn Express Midtown West; Homewood Suites by Hilton New York/Midtown Manhattan Times Square-South, NY; Hotel Pennsylvania; Radisson Martinique on Broadway; Stewart Hotel New York; and Wyndham New Yorker. Learn more about the 142nd Annual Westminster Kennel Club Dog Show here.
About Safe Paw® Ice Melt
Safe Paw® Ice Melt was created in 1996 and introduced to consumers at retail and direct to veterinarians. Safe Paw is 100% safe for pets, children, surfaces (like concrete) and the environment and has won the PTPA Green Product Seal and was included in the Whole Green Catalog: 1000 Best Things for You and the Earth . Pellets are green to make it easy to distinguish it from rock salt and salt-based ice melters, which are generally white. Gaia Enterprises, Inc., is the inventor and manufacturer of Safe Paw® (Safe Thaw®) Ice Melter. Products are available online and at pet, grocery, hardware and mass merchandise stores in 8 lb. jugs up to 35 lb. pails, beginning at $19.95. Learn more at SafePaw.com.