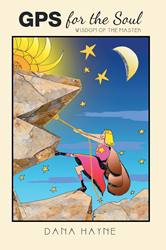 "This book points the way to make real progress on one's spiritual path…It is about the journey from longing for Peace to living in Peace, following the unique way Truth is revealed to each one. Highly recommended." – Amazon reviewer
NARBERTH, Pa. (PRWEB) February 12, 2018
After embarking on a spiritual journey in search for the meaning and purpose in life, author Dana Hayne was introduced to His Holiness Muhammad Raheem Bawa Muhaiyaddeen, a mystic from Sri Lanka. For over 13 years, Hayne lived and studied at his side where she was bestowed his wisdom and teachings to finding inner guidance. Hayne now shares the wisdom and lessons he imparted to her in her new book, "GPS for the Soul – Wisdom of the Master."
A guidance system for the soul, Hayne provides readers with lessons to finding their own inner guidance and peace particularly for those with a need for a metaphysical guidepost. She chronicles her early family life and the dark period she experienced to her global travels from Virgin Islands to Israel Palestine that eventually led her in search of self-growth which she found while living communally under the tutelage of a hundred-year-old wise man.
"This book points the way to make real progress on one's spiritual path…It is about the journey from longing for Peace to living in Peace, following the unique way Truth is revealed to each one. Highly recommended." – Amazon reviewer
With her insight, Hayne hopes to help those suffering from substance abuse and general life confusion to discover their inner guidance and peace of mind and to live a healthier, and substance-free lifestyle.
"I decided to share my story after realizing many of the lessons my spiritual teacher taught me were universal and might offer benefit to others," said Hayne. "Other spiritual books on the market are more how to books. This book illuminates the quest."
"GPS for the Soul" shares Hayne's real-life journey to inner guidance and peace of mind and is the conversation starter needed to guide someone suffering from addiction or other life confusions in the right spiritual direction. To learn more please visit GPS4TheSoulBook.com.
"GPS for the Soul – Wisdom of the Master"
By Dana Hayne
ISBN: 9781504384049 (sc), 9781504384056 (hc), 9781504384063 (e)
Available on Amazon, Barnes & Noble, and GPS4TheSoulBook
About the author
Dana Hayne is a retired labor and delivery and maternity nurse. She received a bachelor of science in nursing from Thomas Jefferson University in Philadelphia, graduating magna cum laude. She continues to assist individuals in their healing journey as a medical tour guide to the Casa de Dominacio Healing Center in Brazil for the spiritual healer, John of God. She also volunteers with the chaplaincy and hospice services in her community hospital. Dana lives with Rodger, her husband of more than forty years, in the suburbs of Philadelphia where they enjoy their two sons and three grandchildren.
For interview requests & review copies contact:
LAVIDGE – Phoenix
Lauren Dickerson
ldickerson(at)lavidge(dot)com
480-998-2600