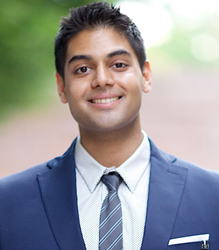 New York City, New York (PRWEB) February 12, 2018
Haute Beauty welcomes Dr. Jay M. Shah, Interventional Pain Medicine and Rehabilitation Medicine Physician, to its invite-only network of beauty and wellness experts.
Based in Manhattan, New York City, Dr. Shah is a rising star and young physician leader within the field of Pain Medicine. His truly patient-centered, multidisciplinary, and evidence-based approach ensures a holistic functional rehabilitation and pain relief. Through novel, non-surgical, and minimally invasive procedures, Dr. Shah utilizes the latest technologies to help restore and maximize the function and overall wellness of patients with chronic musculoskeletal pain-related to degenerative conditions as well as sports-related injuries.
Dr. Shah has a longstanding track record of leadership and innovation within the field of Interventional Pain Medicine as well as Rehabilitation medicine, and has regularly presented his award winning research at national conferences throughout the country.
Dr. Shah completed his residency training in Physical Medicine and Rehabilitation from Montefiore Medical Center/Albert Einstein College of Medicine in NYC, where he served as Chief Resident Physician. He then went on to complete further subspecialty training in Interventional Pain Medicine at the prestigious Weill-Cornell Tri-Institutional Pain Fellowship in Manhattan. There, he trained at three of the nation's top hospitals: Memorial Sloan Kettering Cancer Center, Hospital for Special Surgery, and New York Presbyterian Hospital.
During the course of his training, Dr. Shah also worked within the esteemed ABC News Medical Unit in New York City, pursuing his interest in medical journalism. He currently serves as Director-at-Large and Co-Chair of the North American Neuromodulation Society (NANS) Residents and Fellows Section, and is passionate about education and training within the field.
Dr. Shah also serves on the Young Neuromodulators Committee and Public Education and Outreach committee of the International Neuromodulation Society (INS), one of the largest pain organizations in the world. He is also the Founder and President of the Young Physician's Council of the Cancer Pain Research Consortium, a national organization focusing on novel methods of pain relief, functional rehabilitation, and wellness to those patients with cancer-associated pain, which he considers a true honor and special passion.
About Haute Beauty:
Haute Beauty is affiliated with luxury lifestyle publication Haute Living. A subsidiary of Haute Living magazine, Haute Beauty covers the latest advancements in beauty and wellness and provides readers with expert advice in the most innovative aesthetic and reconstructive treatments through its network of acclaimed surgeons.