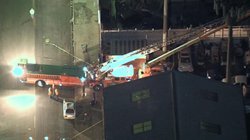 SOUTH LOS ANGELES, CALIFORNIA (PRWEB) February 11, 2018
The family of Juan Figueroa, the 22-year old who was on a boom-lift when he made contact with high voltage power lines and was electrocuted to death and then caught on fire and burned for at least twenty minutes, will be holding a memorial on Tuesday, February 13, 2018, two weeks to date of Figueroa's death. Figueroa's fifteen-year-old brother, who was also on the boom lift, jumped twenty feet down onto a metal rooftop building to avoid being burned himself. The fifteen-year-old sustained severe injuries to his two legs and is receiving ongoing medical treatment.
Family attorney Abraham Sandoval, will be holding a press conference immediately before the memorial to announce a wrongful death lawsuit against telecommunications behemoth AT&T for "gross negligence." It is believed that Figueroa was atop a boom used by AT&T personnel in the days and weeks prior to the catastrophic incident.
Mr. Sandoval notes that investigations are ongoing by the Division of Occupational Safety and Health (OSHA) and other agencies but, "at this point, what I can say is that what happened to Juan should never have happened. Had it not been for the inexcusable negligence of others, Juan would still be alive. Juan's fifteen-year-old brother would also not be in a wheel-chair as he is now. Without a shadow of a doubt, I will not stop until those responsible are held accountable for the loss of Juan Figueroa and the injuries to his brother."