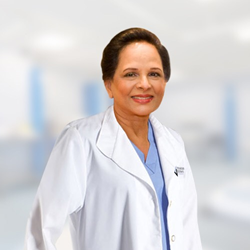 The good physicians treats the disease; the great physicians treat the patient who has the disease.
TAMPA, Fla. (PRWEB) February 19, 2018
Padmini Rajan, M.D., has joined Physician Partners of America as an internist at its Tampa - Habana Primary Care Group.
A member of the American College of Physicians, Dr. Rajan specializes in treating difficult cases related to diabetes and other previously undiagnosed health concerns. She strives to maintain long-lasting physician-patient relationships. Seeing patients live their best possible life is her goal as a physician.
"The good physicians treats the disease; the great physicians treat the patient who has the disease," she says.
Dr. Rajan received her undergraduate and medical degrees from Bangalore Medical College in India.  She completed both her residency and internship in Internal Medicine at Illinois Masonic Medical Center in Chicago.
She has worked in private practice in Chicago, St. Petersburg, Fla., and Bradenton, Fla. She most recently served as medical director of Manatee Springs Rehabilitation Facility in Bradenton. In addition, she has served as an adjunct clinical professor at the Lake Erie College of Osteopathic Medicine (LECOM) in Lakewood Ranch, Fla.
She has been married for 40 years and enjoys spending time with her family, which includes five grandchildren.
She joins Maria Del Rosario Gomez, M.D., in serving the Habana Primary Care Clinic, located at 4726 N Habana Ave., Suite 202, Tampa, FL 33614. Her addition makes it possible for the practice to see patients five days per week. Patients can make an appointment, including same-day, by calling (813) 699-4055.
About Physician Partners of America
Headquartered in Tampa, Fla., Physician Partners of America (PPOA) is a fast-growing national healthcare company that manages a wide range of medical practices. These include interventional pain management, spinal procedures, orthopedics, psychology, personal injury, Workers' Compensation, and AAAHC-accredited ambulatory surgery centers and procedure suites.
Its ancillary division includes imaging, medical supply distributorship, pharmacies, a COLA-accredited high-complexity quantitative toxicology lab and a COLA-accredited pharmacogenomics lab.
PPOA was founded in 2013, on the idea of strengthening the doctor-patient relationship and improving patient outcomes by acquiring medical practices and employing partner physicians so they can focus solely on the practice of medicine. PPOA and its affiliates share a common vision of ensuring the safety and well-being of patients, and providing alternative treatments in the national struggle against opioid abuse. For more information, visit the PPOA website.