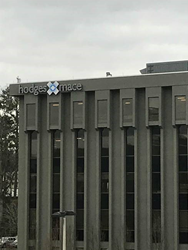 "Our success is based on a strong collaborative corporate culture, and our new space provides the perfect work environment in which to perpetuate that culture as we embark on our next growth phase."
ATLANTA (PRWEB) February 12, 2018
Benefits delivery innovator, Hodges-Mace, LLC, celebrated the New Year by moving into new headquarters in Lakeside Office Park, Sandy Springs, GA. Located at 5775 Glenridge Drive, Building E, the 60,000 foot facility occupies three floors and is almost double the size of its former location in the same office complex.
The move enables Hodges-Mace to continue to expand its current employee base to serve a growing list of US clients. The company currently employs nearly 300 people and plans to add more than 150 jobs over the next few years.
The new headquarters includes 14 conference rooms, two boardrooms, a large training venue, and five open collaboration areas. The following vendors facilitated the move and were involved in the interior and exterior construction:
o Savills Studley (Project Lead)
o Crocker Partners
o WB Interiors Inc.
o CWC (Furniture)
o Convergis (Low Voltage)
o OnePath (A/V and Security)
o A1 Signs (External signage)
Employee benefits veterans Greg Hodges and Peter Mace founded Hodges-Mace in 2004 and serve as Co-CEOs. The company has been on a fast trajectory in terms of employee, customer and revenue growth since acquiring SmartBen and ContinuousHealth in 2014.
"We are a people-based business and fiercely dedicated to serving our clients," notes Peter Mace. "Our success is based on a strong collaborative corporate culture, and our new space provides the perfect work environment in which to perpetuate that culture as we embark on our next growth phase."
This move comes on the heels of their previous renovation and significant expansion of their office in Conyers, GA in the fall of 2016. The Conyers location also takes on the new collaborative work environment and space, which is important since that location supports the company's software and product development functions. This Conyers office is managed by the company's President and CTO, Kevin Andrews.
2017 was a banner year for the Atlanta-based firm. In addition to being named One of the Best Companies to Work for in Georgia for the second year, the company achieved record revenue. Last year Hodges-Mace also launched SmartBen NOW, a mobile app featuring a centralized employee benefits dashboard that delivers access to employer-provided benefit information. The solution allows employers to design an employee benefits experience that keeps their value proposition top-of-mind throughout the year, not just during the open enrollment season. "SmartBen NOW allows employees to make smarter benefit choices, which reinforces the true value of their benefit packages and increases employee retention," said Greg Hodges.
About Hodges-Mace
Headquartered in Atlanta, Georgia, Hodges-Mace, LLC is a leading provider of benefit management software and services. Their portfolio ranges from small-to-mid-size companies and Fortune 500 enterprises in a variety of industries, including education, energy, gaming, financial services, healthcare, manufacturing, and retail. Hodges-Mace is a respected leader in the employee benefits industry and helps employees and employers make smarter benefits decisions through a blend of innovative technologies and intelligent service solutions. The company was named One of the Best Companies to Work for in Georgia in 2016 and 2017. For additional information visit http://www.hodgesmace.com.
# # #
Media Contact:
Elizabeth Fairleigh
thE Connection
404.695.562
Elizabeth@EConnectionPR.com