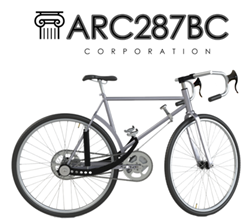 Give me a lever long enough and a fulcrum on which to place it, and I shall move the world. - Archimedes
TOTOWA, N.J. (PRWEB) February 27, 2018
ARC287BC CORPORATION ("ARC287BC, Corp"), an American company dedicated to the invention and production of the patented high-quality Archimedes bicycles and other products, like the Canoe and the Paddleboat, announced today the pricing of its initial public offering of 50,000,000 shares of its common stock, which will be sold by ARC287BC, Corp., at a public offering price of $1.00 per share.
Intellectual Property
ARC287BC (ARC) Corporation is a Totowa, NJ based research and development firm specializing in the invention of a series of human - powered vehicles (bikes, trikes, canoes, three-wheelers and paddleboats etc.) with a unique advanced patented technology called the "Stepper Mechanism or the Motion Transfer Mechanism". They have one patent issued on 02/27/2018 (14/832,430). This validates the uniqueness of their Intellectual Property. They have also filed applications in Europe, China, South Korea, Japan, etc. "We have created the safest and fastest bicycle in the World. We are extremely proud of all our accomplishments. We have been qualified by the SEC, completed two protoypes, and have received approval for both US and International patents worldwide. One of our most gratifying accomplishment is to have received the New Jersey State Senate Award for helping the physically challenged", said Wilson X. Bezerra, CEO.
The company launched a formal stock offering on Oct. 24 after receiving qualification from the Securities and Exchange Commission of its offering statement under Regulation A+. The ARC287BC, Corp. especially designed the Archimedes bicycle (and other products) for the general public, people who are physically challenged, as well as baby boomers who are suffering from joint and back problems. At present, we have produced two different stepper bicycle prototypes. Both are ready for production.
The closing of the offering is expected to occur on October 1, 2018 or the date on which all 50,000,000 shares are registered by The Company's Management. The Company may use discretion to extend the offering for an additional 180 days subject to satisfaction of customary closing conditions.
The offering will be made only by means of subscription agreement. A copy of the subscription agreement relating to this offering may be obtained from any of the following resources:
Address:
ARC287BC.COM/OPPORTUNITY
232 Union Blvd
Totowa, NJ 07512
Phone: 973-595-7775
Fax: 1-866-522-1251
E-mail: info(at)arc287bc(dot)com
A registration statement on relating to these securities was declared effective by the U.S. Securities and Exchange Commission on October 24, 2017 at 4PM. This press release shall not substitute an offer to sell or the solicitation of an offer to buy nor shall there be any sale of these securities in any state or jurisdiction in which such offer, solicitation or sale would be unlawful prior to registration or qualification under the securities laws of any such state or jurisdiction.
Investor Relations:
Wilson X. Bezerra
Chief Executive Officer
ARC287BC Corporation
info(at)arc287bc(dot)com
973-595-7775 Office
Media:
Wilson X. Bezerra
Chief Executive Officer
ARC287BC Corporation
info(at)arc287bc(dot)com
862-703-9196
Source:
ARC287BC, Corp.
Help Us Change The World By Spreading The Word.
Please Share This With Your Friends & Family
To View Testimonials Click Here : Invest In Arc287BC Today!