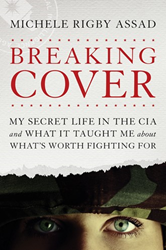 WASHINGTON (PRWEB) February 12, 2018
Michele Rigby Assad, a former counterterrorism officer and Middle East expert began her "Breaking Cover" book launch in New York City last week and is now a Best Seller for Assad.
Breaking Cover was featured on NBC's TODAY, In The Market with Janet Parshall on Moody Radio, The Lars Larson Show, Wilkow Majority on SiriusXM, The Eric Metaxas Show, Christian Broadcast News, and The Chad Benson Show on Radio America. Assad's Breaking Cover is leading the story this coming week with multiple news outlets nationwide.
Assad will be featured by the SPY Museum in Washington, D.C. on February 22, 2018, for the official book launch of Breaking Cover My Secret Life in the CIA and What It Taught Me about What's Worth Fighting For. For tickets please visit: https://www.spymuseum.org/calendar/detail/breaking-cover/2018-02-22/
About Michele:
Michele Rigby Assad joined the CIA in January 2002 and spent a decade working as an undercover intelligence officer in the Directorate of Operations. Specializing in counterterrorism and counterintelligence, Michele worked in several hot spots, including Iraq at the height of the war. To date, Michele has lived in six countries and traveled to more than forty others.
Michele is an author, public speaker, trainer, and security consultant focused on the Middle East, Europe, and North Africa. She holds a master's degree from Georgetown University's School of Foreign Service and a political science degree from Palm Beach Atlantic University. Her forthcoming book Breaking Cover: My Secret Life in the CIA and What It Taught Me about What's Worth Fighting For, will be available February 2018. She and her husband, Joseph, live in Florida.