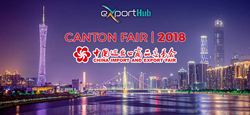 Largest in China · Global Network · 24,000+ Quality Suppliers
Guangzhou (PRWEB) February 14, 2018
The Canton Fair, also known as China Export and Import fair is going to commence in Guangzhou, China as a four-day event starting from 15th-19th April 2018. Organized biannually in Guangzhou every autumn and spring, and with diverse cultural history and rich background, Canton Fair organized its first exhibition in 1957, and since then, there's no turning back.
ExportHub is going to partake as an important figure in the Canton fair aiming to provide an opportunity for all the suppliers and manufacturers to meet and build relationships based on business activities.
The fair plays an essential role in the economy of the country and gathers almost 24,000 of the country's leading foreign trade organizations and nearly 500 international organizations with a profound rapport and vast financial reserves.
The event is anticipating in welcoming 50,000 or more trade visitors, 5000 and more exhibitors and thousands of bloggers and journalists from all over the world. A huge number of suppliers and manufacturers are gathering to showcase their products to the potential buyers and exchange business information from each other through trading of goods and services.
Products going to be showcased at Phase 3 include:

Office supplies
Medical devices
Food products
Health products
Medicines
Textile and garments
Shoes
Recreational products
This trade fair is going to open the opportunities for many small start-ups connecting business sectors and professionals to create an astounding breakthrough in the B2B trade. Apart from business attendees and organizations, many of the high-profile personalities and brands from all over the world are going to showcase their products to people.
Various media groups, personalities, and bloggers are going to cover the entire event making it an international success and gain competitive advantage through SEO to attain traffic and ratings on their websites.
About Exporthub.com
ExportHub is a renowned B2B platform created exclusively to assist the buyers in meeting the most genuine suppliers and sellers from all over the world. For manufacturers, ExportHub creates plenty of circumstances to enhance their brand on a broader scale and build a strong brand identity.
ExportHub is quite different from the traditional B2B organizations because it provides optimum value to the suppliers for their investment in the market. Some of its important functions are:
Authentic buyers with genuine information
Buyers contacting suppliers from all over the world
Live assistance from the account managers in connecting the buyers to the sellers/suppliers
Remarkable improvement in the total number of buyers for maximum ROI
Contact Information
Tom Spiggle
PR Executive
264 Hemlock Ter Teaneck, NJ 07666, USA
Phone: +1(866) 978-0288
Email: contactus(at)exporthub(dot)com
Website: https://www.exporthub.com/