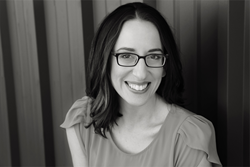 Vanessa's customer and product knowledge are vast and she has a deep understanding of all aspects of our business.
FAIRFIELD, NJ (PRWEB) February 13, 2018
AlltecPro™, a provider of commercial and residential technology solutions proudly welcomes Vanessa Zitzmann to its team as National Sales Manager. In her new position, Mrs. Zitzmann will be responsible for managing a national sales force of independent manufacturers' representatives that sell AlltecPro's products, solutions, and services to commercial and residential technology integrators.
Mrs. Zitzmann will work closely with organizations such as the Custom Electronic Design and Installation Association (CEDIA) to engage with the industry's community and to help drive business and profitability to its members. For the last five years, Mrs. Zitzmann has been the Marketing & Sales Director for 21st Century Distributing working closely with manufacturers to organize trainings and business development initiatives for dealers and staff.
"Our technology integration community is collaborative and is enjoying exponential growth thanks in part to the close relationships between integrators, manufacturers, distributors and sales representatives. Vanessa's customer and product knowledge are vast and she has a deep understanding of all aspects of our business," said Vincent Bruno, President of AlltecPro. He continued "Along with her work with technology integrators, distributors, and manufactures throughout the US and around the world, Vanessa is an active volunteer for CEDIA and is a member of the Women in Consumer Technology. Vanessa's energy and commitment to our industry perfectly align to our mission."
"Our industry is constantly evolving and I'm excited to join the AlltecPro family with its inclusive mission to serve all who deploy technology, from integrators to home owners," said Vanessa Zitzmann, National Sales Manager for AlltecPro. She continued "In my former role I enjoyed driving sales growth for our company through a combination of marketing, branding, and education and I will be relentless in our efforts to serve our technology integrators."
Mrs. Zitzmann was named:

2017 Technology Integrator Top Talent Under 40
2016 Woman to Watch from Women in Consumer Technology
2016 CEPro Top 40 Under 40
About AlltecPro
AlltecPro, Serving ALL Who Deploy Technology is a manufacturer, provider and integrator of consumer technology and professional audiovisual products and solutions for commercial and residential applications. AlltecPro is a destination to acquire popular brands, systems design, installation, and integration services. AlltecPro offers complete support and dispatches professional technologists globally. Discover AlltecPro by visiting http://www.alltecpro.com.