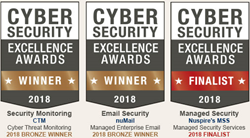 Commerce, Michigan (PRWEB) February 13, 2018
Nuspire, a state-of-the-science Managed Network Security Services Provider (MSSP) for some of the largest and most distinctive companies around the world, announced today that its Cyber Threat Monitoring (CTM) solution and its Managed Enterprise Email solution, nuMAIL, were both named Bronze winners for the 2018 Cybersecurity Excellence Awards.
Winners in each category were selected based on a combination of Cybersecurity Insiders judges, a popular vote from the public and each solution's unique ability to protect data and information for individuals and organizations and reflect the very best in today's cybersecurity industry. Nuspire's CTM solution is the Bronze winner for the Security Monitoring category and the nuMAIL solution is the Bronze winner under the Email Security category. Nuspire's Managed Security Services was also recognized as a finalist in the Managed Security category.
Produced by Cybersecurity Insiders, the Cybersecurity Excellence Awards recognize companies, products and individuals that demonstrate excellence, innovation, and leadership in information security. This year, the award received over 400 entries in more than 70 categories. To see the full list of winners, visit https://cybersecurity-excellence-awards.com/2018-cybersecurity-product-awards-winners-and-finalists
About Nuspire
Nuspire is a state-of-the-science managed network security service provider with nearly two decades of industry experience with providing network management, monitoring, and security services for some of the largest and most distinctive companies in the world. Beyond the classic monitor and support models, Nuspire utilizes big data, cloud-driven technologies, custom-built and integrated threat intelligence, and human analytics to meet the managed security needs of enterprise organizations with geographically dispersed networks. Solutions are delivered with service level commitments for network security, performance, and compliance. With its custom-built monitoring systems, a team of experts available 24/7/365, and a deep security knowledge and expertise, Nuspire is the benchmark for managed security services and maintains unparalleled cybersecurity technologies deployed globally. To learn more, visit http://www.nuspire.com