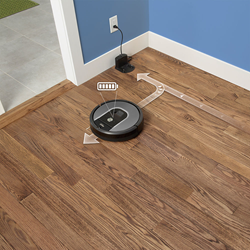 (PRWEB) February 13, 2018
A prodigy of the trio of the IT geniuses and graduates of Massachusetts Institute of Technology, Rodney Brooks, Helen Greiner, and Colin Angle, iRobots Corporation is the vertex of American Advanced Technology, which was established back in the 1990s and has only been en-route to evident success.
With the unique idea of developing home cleaning robots, iRobots has made life expedient for the working class Americans as well as global citizens who find themselves conforming to the restrictions of time.
For years now, iRobot has remained engaged in developing unique, multi-tasking robots that assist individuals in their chores. But they ventured into more complicated robotic developments when they developed military specialist robots to aid in the progress of America's defense system.
Fascinated by the company's distinctive technological development and intrigued by their current endeavors, we happened to speak to one of Techrevel's representatives about what is happening indoors.
He said, "For those who've been a part of the iRobots family or even just slightly kept up with our developments are probably aware of the National Robotics Week which is held every year. So as of now, the company is looking forward to actively participate in the latest, upcoming National Robotic Week of the year 2018."
We asked the representative about when exactly this week will be held. He answered, "Well, it is held in spring, annually so the dates for this year's week are from April 7th to 15th. And for those of you who aren't aware, this is going to be the 9th annual National Robotics Week Event which celebrates America's diligent participation and attempts to advance the robotic technology development not only to ease up the lives of her countrymen but also to protect them."
We asked about what iRobots will be presenting to the world this time. He replied, "Our company was initially designing and developing robots for the military but after a short while, when we noticed that the needs had been satisfied, the contracts were discontinued. This is why our main focus now is on our consumer products to maximize ease and efficiency for our customers."
He then added, "We hope to introduce our latest vacuum cleaning technology during the week. You might have already heard about the iRobot Roomba series but we plan on introducing a new, latest version of the series, iRobot Roomba 980 Wi-Fi Home Robot. So let's see how the customers respond to that."
When inquired a little more about this new home robot, he said, "We have instilled a Wi-Fi connection in the robot in order to bridge the communication gap between the human and the robot and allow the home owners to control the robots from their phones. Additionally, the robots already have advanced mapping and navigation technology so it will be much easier to control and instruct them on when and where to clean."
We concluded that the vacuum technology has progressed to far more advanced levels and today, not only is the robot just a few taps away, it also carries the intelligence to clean different types of spots with different strategies.