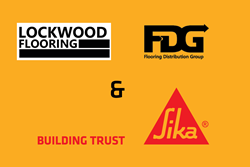 "Launching this new partnership with Sika will further enhance our product offering to not only residential, but also commercial industry in the territories we serve.", said Brian Wood, General Manager Lockwood Flooring
LYNDHURST, N.J. (PRWEB) February 14, 2018
Sika Corporation is proud to announce its new business relationship with Lockwood Flooring. Starting February 2018, the six branches of Lockwood Flooring will distribute the Sika Interior Finishing product range in Iowa, Kansas Missouri, Nebraska and Oklahoma, Illinois, Arkansas. This product range includes Sika's commercial and residential solutions for wood flooring adhesives, moisture mitigation, subfloor preparation and self-leveling underlayments.
Lockwood Flooring has been the leader in wholesale distribution of quality hardwood flooring and installation products in the Midwest Region for more than 35 years. Lockwood Flooring has partnered with some of the most trusted names in the hardwood flooring industry and has established itself as an industry leader and trusted partner. Lockwood strives to constantly maintain the highest level of integrity with its partners and customers.
Sika's commitment to its customers through technical support, ongoing educational programs as well as effective marketing assistance gives Lockwood Flooring the opportunity to provide prompt service and quality products to the end user.
"Launching this new partnership with Sika will further enhance our product offering to not only residential, but also commercial industry in the territories we serve," said Brian Wood, General Manager Lockwood Flooring.
"Sika is excited to begin working with the Lockwood Flooring. Their distribution network is a perfect fit for our quality products and we are both looking forward to increasing the footprint of our long lasting solutions through a great business relationship," said Mike Croes, VP of Interior Finishing.
About Sika:
Sika AG, located in Baar, Switzerland, is a globally active specialty chemicals company. Sika supplies the building and construction industry as well as manufacturing industries (automotive, bus, truck, rail, solar and wind power plants, façades). Sika's product lines feature high‐quality concrete admixtures, specialty mortars, sealants and adhesives, damping and reinforcing materials, structural strengthening systems, industrial flooring, as well as roofing and waterproofing systems. Worldwide local presence in over 100 countries and more than 18,000 employees link customers directly to Sika and guarantee the success of all partners. Sika generated annual sales of CHF 5.49 billion in 2015.