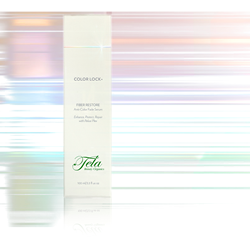 Everlasting Color Brilliance, Warrior Hair Strength! The Thrill of Fresh Color Will Stay With You.
NEW YORK (PRWEB) February 13, 2018
Tela Beauty Organics, LLC announced today, the launch of a groundbreaking advanced formula by Philip Pelusi – Color Lock+ Fiber Restore, Anti-Color Fade Serum for everlasting color brilliance and warrior hair strength.
THE THRILL OF FRESH COLOR WILL STAY WITH YOU
Color Lock keeps color vibrant and shining for up to 20+ Shampoos
Color Lock+ eliminates what happens to poorly maintained hair color in between color sessions as we know it: color fade, loss of hair strength, rough, dry/matte hair texture, tangles and overall drab. Plus, lack of style ability.
Color Lock+ prolongs the life of color with everlasting color brilliance and satiny, creamy texture until the next color session. With regular use of Color Lock+ one can maintain the luxurious feel of fresh hair color in all of its glory.
THE BEST JUST GOT BETTER
Philip Pelusi brings new technology to invention in product technology and formula development with Tela Beauty Organics Color Lock+, Anti-Color Fade Serum an advanced formula of its predecessor Color Lock. The 'Plus-+' now represents the groundbreaking technology behind Fiber Restore Pelusi Plex ™ his most recent proprietary matrix blend that works to reinforce hairs' keratin structure from the inside out, while dramatically locking in hair color, leaving it in a healthier state.
STRONG HAIR!
Color Lock+ prolongs the life of hair with core strength ability. New advanced formula with Fiber Restore Pelusi Plex ™ reinforces each hair strand with virgin like hair strength working double duty to keep color in its place while repairing hair into optimum condition.
Tela Color Lock+ works as a protective shield to help reverse aggressive outcomes such as further damage or hair weakness caused by regular chemical stress to actually heal the cell membrane in each hair strand. The result is lasting color brilliance, structural reinforcement, and hair smoothing effects.
SUPERNATURAL COLOR LOCKING RESULTS
Prolong the Life of Your Color, Prolong the Life of Your Hair!

Reduces hair breakage, repairs the cuticle layer
Fresh color for up to 20+ shampoos
Prevents color fade up to an amazing 80%
Hair regains its gloss, luster, flexibility and core strength
Anti-aging, soothing for the scalp
FIBER RESTORE PELUSI PLEX™
Tela's powerful matrix blend works to reinforce the cell membranes in each hair strand.
PATENT PENDING HYDRO PELUSI CERAMIDE COMPLEX
Unleashes radiance, gleaming shine, color vibrancy, style freedom
TELA'S CERTIFIED ENHANCING BLEND
Antioxidants Chinese Foxglove, Ku Shen, Reishi Mushroom, Milk Thistle & Wolfberry
MICRO-EMULSION BROAD SPECTRUM UVA/UVB FILTERS
Organic UV filters protect color – Sunflower Seed Extract, Canola Seed Oil, and Coconut Protein
CERTIFIED ORGANIC BAOBAB OIL
Anti-aging, protective, and strengthening benefits for hair and scalp
NO WATER IN THE FORMULA!
Instead, Oolong, Green and White Tea for super-charged antioxidant power.
TELA COLOR LOCK+ SYSTEM
The Tela Color Lock+ System includes Tela Beauty Organics products needed to preserve color longevity, maintain hair and scalp health, and rejuvenate hair texture. Use Color Lock+ with Color Guard Shampoo and Conditioner and Guardian Angel Solar Hair Serum.
NEW LOOK, NEW REFINEMENT
Color Lock+ is encased in an ultramodern, gemlike signature box ($46.00 retail, 3.3oz).
A transparent, incandescent hologram detail reflects everlasting color brilliance. This crystalline-like effect expresses the shine quality Color Lock+ gives: An endless, luminous, translucent shine and dimension through all rich palettes and vivid hues – from the color of the earth to the color of the sea.
RARE GEM
You have just discovered a rare gem – there's nothing quite like Tela. Philip Pelusi makes daring, matchless, imaginative, extraordinary hair care formulas. They are so original, and so unique, you can feel the magic holding the bottle. Tela represents a long standing healthy hair concept beyond any trend. Tela is having the most amazing hair of your life. All Tela haircare products are custom designed by Philip Pelusi and personalized just for you. If you are new to Tela, you have never experienced haircare like this before
ABOUT TELA BEAUTY ORGANICS
Supernatural Performance Where Science Unlocks Organics™
We are driven by science to produce supernatural, hi-tech formulas – then we empower them with our proprietary 35 certified organic powerhouse ingredient blend. Our ahead of the curve patent pending, technology expresses Tela's intuitive intelligence and innate wisdom. Our pioneering approach to product formulation and breakthrough approach to hair care harnesses the power of organics to become effective in each Tela formula.
Transformative Power - Be prepared for a new experience.
Tela Beauty Organics is an entirely different 'feel' for your hair. Our hybrid formulas bring to the world a completely new textile for hair fabric as you have never seen it before – think cashmere or silk.
The Tela Difference – Based on Brilliance
Tela translates to fabric. It is the Latin term for "woven" — an apt reflection of Philip Pelusi's philosophy for organic hair care, innovation, and design. Philip Pelusi approaches Tela product formula developments as a couturier addresses fabric – varying textures, lengths, and colors, recognizing that hair and skin require unique products, attention and care.
The Tela vision advocates treating and cleansing hair and skin as you would your finest fabrics – cashmere and silk. In this approach, we consider hairs' first priority is to be authentically healthy from the inside out. Rather, than prolonging a manufactured appearance of health upon the surface.
Transformed hair radiates from roots to ends.
Hair is left feeling silky and healthy with weightless body and vibrant shine. Tela's unique proprietary use of powerful antioxidants and super fruits help keep cells healthy from damage caused by pollutants, chemicals, and environmental damage. Anti-color fade ingredients keep hair color fresh and longer lasting. Anti-inflammatory properties work to sooth and hydrate the scalp to prevent inflammation that can weaken growth. Anti-aging effects leave hair and skin looking and feeling luxe, lustrous and resilient over time. Tela is vegan, color safe and free of gluten, parabens, formaldehyde, BHT, and sulfates
LOVE TELA
http://www.telabeautyorganics.com, 844-818-7373, tela@telanyc.com