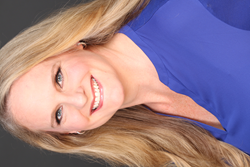 "I read Holly's book with my heart in my throat. As a counterterrorism officer who worked in very dangerous locales, what happened to Holly is my worst nightmare. She could have allowed this to take over her life, but instead, she triumphed over the fear."
WASHINGTON (PRWEB) February 20, 2018
Every 98 seconds another American is sexually assaulted. This statistic is found in the Rape, Abuse and Incest National Network (RAINN) website and is highlighted by former RAINN Spokesperson, Author of Sole Survivor and inspiration speaker, Holly K. Dunn.
"America's backyard has been the playground for perpetrators to abuse and assault women and children. I am sickened by the constant news headlines that fill our local and national news with the sexual abuse that takes place in our society." said Holly K. Dunn
Former RAINN spokesperson, a woman of inspiration and the Sole Survivor of the Infamous Railroad Killer, Holly K. Dunn will begin her speaking tour across the country as she engages university students on the topics of sexual assault and the prevention of abuse.
Beginning in March 2018, Dunn will be speaking to the Penn State Justice Association as their keynote speaker. Penn State Justice Association stated "As students who study Criminology, it is particularly difficult to conceptualize the events and topics we study at arm's length. We are so excited Holly agreed to come in and share her experience as not only an educational tool but also as a lesson in strength, resilience and turning a horrific experience into an opportunity to give back." --Brittany Miraldi, President Penn State Justice Association
Dunn's story has been featured by CBS 48 Hours. The episode also highlighted book excerpts from Sole Survivor including Holly's family members and Kappa Kappa Gamma Sorority Sisters who were involved during those days. More information can be found at https://www.cbsnews.com/news/48-hours-live-to-tell-the-railroad-killer
About Holly K. Dunn:
Holly Dunn Pendleton is a survivor, a motivator, and a tribute to the human spirit! The victim of a violent physical and sexual assault and witness to her boyfriend's murder, Holly has become a beacon of hope and inspiration to many.
Miraculously living to tell her story, Holly motivates others to reclaim their lives after the assault and to help her community build a network of healing and outreach. Holly's passion to advocate for other victims of violence is extraordinary, and it is this passion that has allowed her and organizations that she is a part of to reach so many people.
Holly's work includes being the spokesperson for Holly's House a local sexual abuse and domestic violence advocacy center which she co-founded in her hometown of Evansville, IN. That passion later evolved into her current full-time work as a motivational speaker and trainer, using her own experience and uplifting message to inspire and enlighten.