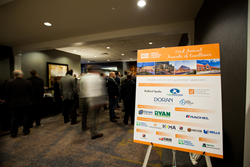 MINNEAPOLIS (PRWEB) February 12, 2018
Adolfson & Peterson Construction (AP) was honored for several awards at Minnesota Construction Association's (MCA) 23rd Annual Awards of Excellence Gala on Wednesday, January 31. AP received awards in the following categories: "New Project Total Value Under $15 Million"; "Green/Sustainable Project"; and "MCA Member of the Year." Every year, MCA hosts the Awards of Excellence Gala to acknowledge and honor construction projects and members that make substantial contributions to the community and association. The gala was held again at the Minneapolis Marriott West with nearly 200 construction industry professionals in attendance, including AP's project teams to accept their awards.
The beautiful new Wayzata Mill Street Parking Ramp won MCA's Awards of Excellence for "New Construction Under $15 Million". The Mill Street Parking Ramp included construction of a new 385-stall, 93,700 SF parking structure for the downtown City of Wayzata. Work consisted of a cast-in-place concrete with a post-tensioned cable 2nd floor deck. Exterior façade consisted of precast panels with a thin-brick facing, factory finished metal wall panels and decorative ipe wood cladding. A well-deserved project recognition was received from team members in attendance – AP, HGA Architects and City of Wayzata officials.
The unique and challenging University of Minnesota Combined Heat and Power Plant won MCA's Awards of Excellence for "Green/Sustainable Project". This project included the renovation of the 104-year-old Main Energy Plant to add combined heat and power generation equipment to create a multi-functional building that is 83 percent energy-efficient (more than double the efficiency of a coal-fired power plant). The new Main Energy Plant connects to the existing Gopher substation and the University's utility system, generating electric power and steam for the Minneapolis campus. Fueled by natural gas, the Main Energy Plant will save the University an estimated net $2 million annually in utility operating costs and is a key investment in the University's climate action plan to reduce campus emissions in half by the year 2020. A key and very notable project received much earned recognition by project team members from AP, Braun Intertec and the University of Minnesota.
AP's marketing coordinator, Allie Zeman also received MCA's Awards of Excellence "Member of the Year" for her dedicated time and commitment to the organization, nominated by the members. AP also received Merit Awards for The Landing – "New Construction Over $15 Million"; City of Golden Valley–Brookview Community Center – "Government Construction"; and Post Tension (PT) Plugs Innovation – "Research, Innovation or Use of Technology".
The MCA is a non-profit association dedicated to providing networking, continuing education and recognition opportunities for professionals in the construction industry. For more information, contact the MCA Office at (952) 928-4646, email info(at)mnconstruction(dot)org or visit http://www.mnconstruction.org.
About AP
Adolfson & Peterson Construction (AP) is a U.S.-based, privately held firm that is consistently ranked among the top 50 construction managers and general contractors in the nation. Founded in 1946, the company has built longstanding commitments to the regions in which it operates and is known nationally for its innovative and collaborative approaches within the building industry. AP serves the education, multifamily, healthcare, commercial, municipal and senior living market segments from its offices in Charlotte, Dallas, Denver, Minneapolis and Phoenix. For more information, visit http://www.a-p.com and follow us on Facebook, LinkedIn and Twitter.