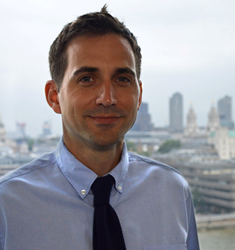 Content is the fuel our products and marketing run on.
NEW YORK (PRWEB) February 13, 2018
Argyle, the leading B2B events and marketing services platform, has hired Luke Bilton as VP, Audience and Content to oversee content and marketing strategy across the company's four executive engagement brands: Argyle Executive Forum, Innovation Enterprise, CFO Publishing and Proformative. Mr. Bilton joins Argyle from UBM, where he led the content business for UBM EMEA UK.
Argyle President Scott Kenerly said, "Luke brings a wealth of experience in event strategy and digital content, and will be focused on aligning and implementing a content strategy that transforms how we conceptualize, differentiate and execute our events and related products. The goal is simple – we want to take our events and engagement to the next level, both for sponsors and attendees. Luke will play a critical role in defining how we do that."
Through its 300+ Executive Forums, Innovation Summits and custom events, plus 300+ Virtual Events and Digital Demand Generation programs, Argyle reaches over 3 million business leaders in finance, marketing, data analytics, technology, strategy, customer engagement, human capital, legal, supply chain and security. "Content connects the dots," said Bilton. "Content is the fuel our products and marketing run on. Whether through inspirational keynotes, video or market reports, we use it to deliver regular insight to our executive communities and bring them together at live events."
About Argyle - Argyle delivers events and resources for a thriving community of business leaders through a suite of executive engagement platforms – Argyle Executive Forum, Innovation Enterprise, CFO.com and Proformative. Through stimulating event content and discussions, structured networking sessions, editorial content and online forums, Argyle provides an opportunity for executives to find solutions to top-of-mind issues and develop professional relationships among their peers, while creating measurable access to leading solutions providers.