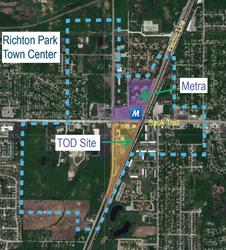 Village of Richton Park Issues RFQ/P for 13-Acre Transit Oriented Development Site.
CHICAGO (PRWEB) February 21, 2018
The Village of Richton Park has issued a Request for Qualifications/Proposals (RFQ/P) to identify qualified Respondents for the redevelopment of a transit oriented development (TOD) site located within Richton Park's Town Center. The Village is seeking a developer or development team to undertake the redevelopment of approximately 13+/- acres located at the southeast corner of Sauk Trail and Governors Highway and located across from the Richton Park Metra Commuter Rail Station.
Richton Park is a vibrant community of 13,507 located approximately 28 miles south of Downtown Chicago. The Village has a healthy balance of established neighborhoods, evolving commercial centers, and new opportunities for expansion. The development site is within the Richton Park Town Center, a mixed-use area with multi-family housing, shops, grocers, and regional retailers.
The RFQ/P may be downloaded from the Village's website at http://www.richtonpark.org/DocumentCenter/View/1738 Responses are due by 4:00 p.m. on Friday, March 30, 2018.
For more information about the Richton Park Town Center, Redevelopment Site, and contact information, please refer to the RFQ/P document.
Contact:
Regan Stockstell
rstockstell(at)richtonpark.org