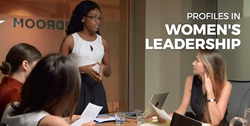 NEW YORK (PRWEB) February 13, 2018
Biz2Credit is announcing that it has launched a major video programming initiative focused on Women's Leadership Profiles in Business, entitled She Means Business. The video series was created in support of its annual "Biz2Credit State of Woman's Business Finance" study that will be released March 6, 2018.
In support of the report's release, the She Means Business Video Series will host a series of interviews with prominent women entrepreneurs and business leaders to discuss the challenges and best-practices they have followed to become successful.
Biz2Credit will be announcing collaboration on "She Means Business" with several major financial services corporations ahead of the March 6 report release.
She Means Business Video Series kicks-off with two interviews with:
Adrienne Mercer-Garland, Founder & CEO of She Leads Media, a media and marketing consultancy for women-owned businesses, and;
Sarita Ekya, Owner of S'MAC Restaurant in Manhattan, New York.
About Biz2Credit
Founded in 2007, Biz2Credit has arranged more than $2 billion in small business financing and has several times been named to Crain's New York's Fast 50 and was ranked among the top 200 fast-growing companies on Deloitte's 2017 Technology Fast 500. Biz2Credit is expanding its industry-leading technology in custom digital platform solutions for leading banks and other financial institutions, investors and service providers in the U.S. Visit http://www.biz2credit.com or follow Biz2Credit on Twitter: @Biz2Credit, Facebook, and LinkedIn: https://www.linkedin.com/company/biz2credit-llc.