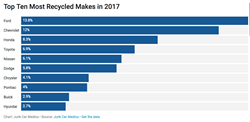 "Indeed, pouring over these numbers confirmed some of what we knew while revealing some of what we did not – interpretation, like a car's mileage, may vary."
(PRWEB) February 13, 2018
Junk Car Medics (JunkCarMedics.com), a New York-based cash-for-junk cars company founded by Felix Maxwell, recently published its Wheel Life: The Most Recycled Junk Cars in America data report, meant to take a look back at the cars they recycled in 2017 in order to analyze the current state of end-of-life vehicle recycling in America. The focus was on the cars recycled in the United States as a whole, with many industry insiders finding Junk Car Medics' results surprising.
"With 2017 gone and 2018 in full swing, we thought this would be the ideal moment to take a look at our data from 2017 and analyze it," explains Maxwell. "We've randomly selected a portion of our database of cars we purchased and broke it down, with some of our findings being called 'surprising' by auto industry analysts."
Owners of early-2000 Accords, Civics, Camrys, Explorers and Tauruses will find, according to Junk Car Medics' report, plenty of options for replacement parts at their local vehicle recycling center, but the flip side to that coin is that they might need to spend extra time vehicle shopping in the near future – new research on the American automobile recycling market by Junk Car Medics indicates that these models topped the list of end-of-life vehicles (ELVs) which reached the end of the road in 2017.
"Analyzing the past year's ELVs was a fascinating retrospective on the state of the American car parc," adds Maxwell. "Like a high school yearbook, the collected memories of 2017's 'graduating class' tells a tale of changing tastes, enduring popularity, transfers in and nearly-forgotten transfers-out; every few pages, fleeting glimpses of troubled automakers and wayward models serve as reflections of the world beyond the fast lane.
"Indeed, pouring over these numbers confirmed some of what we knew while revealing some of what we did not – interpretation, like a car's mileage, may vary."
According to Junk Car Medics' research, the top 10 most recycled makes in 2017 were Ford, Chevrolet, Honda, Toyota, Nissan, Dodge, Chrysler, Pontiac, Buick and Hyundai, confirming what many industry experts agree upon: A who's who of the most popular vehicle brands in America will necessarily always top the list. However, it was a different kind of "closeout" for the top 10 most recycled models in 2017, a list that encompassed Honda's Accord and Civic, Toyota's Camry, Ford's Explorer and Taurus, Nissan's Altima, Chevy's Impala, Toyota's Corolla, Jeep's Grand Cherokee and Chevy's Malibu.
In the areas of "makes made to last" and "makes made to live fast," Maxwell explains how every vehicle possesses its own history and shares the reasons behind the decision to finally say goodbye – reasons that are often myriad and sundry: "Comparing the average age of ELVs at retirement by manufacturer can reveal interesting insights with regard to which vehicles are given a longer lease on life versus those that drive a more direct route to the recycling center."
To that end, the top 10 longest-lasting vehicle makes recycled in 2017 included Oldsmobile, Mercedes, Lexus, GMC, Toyota, Buick, Cadillac, Honda, Mercury and Lincoln, while the top 10 shortest-lasting vehicle makes recycled included Kia, Hyundai, Suzuki, Chrysler, Volkswagen, Mazda, Saturn, Pontiac, Mitsubishi and Nissan. The top 10 longest-lasting vehicle models recycled in 2017 included Cadillac's DeVille, Chevy's Suburban/Blazer/F-10, Toyota's Camry, Honda's Accord, Ford's Escort, Buick's LeSabre and Century and Dodge's Ram, while the top 10 shortest-lasting vehicle models recycled included Chevy's Cobalt, Hyundai's Sonata, Chrysler's PT Cruiser, Ford's Escape, Chevy's Impala and TrailBlazer, Hyundai's Elantra, Ford's Focus, Nissan's Altima and Chrysler's Sebring.
Junk Car Medics also included such information as state-by-state breakdown of automobile recycling and more in its Wheel Life data analysis.
Junk Car Medics can be reached by calling (888) 537-3902. For more information visit https://www.junkcarmedics.com/junk-cars-recycled-2017/