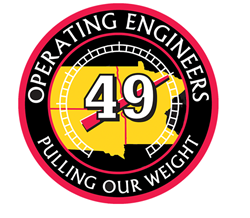 "There hasn't been anything like this at this scale ever in the Midwest."
ST. PAUL, Minn. (PRWEB) February 13, 2018
The International Union of Operating Engineers Local 49 announced today plans for its' New Iron Expo on April 3, 4 & 5th in Hinckley, MN. This event will be the largest of its kind to be held in North America and possibly the world. The event will feature a long list of more than 100 vendor brands, training opportunities and dynamic hands-on experiences on the 400-acre property of the Local 49 Training Center.
What sets the New Iron Expo apart from other trade shows is that it allows attendees to actually roll up their sleeves and try out the new equipment for themselves.
"At a showroom or a typical tradeshow, you can only look at equipment and admire its appearance. Here the attendees can experience for themselves the capabilities of this new cutting edge equipment," said Layne Johnson, Local 49 Training Center Director. "There hasn't been anything like this at this scale ever in the Midwest."
In addition to the vendors that will be on-site, another large focus of the event is to show attendees the capabilities and thoroughness of Local 49's commitment to training. Since the training facility opened in 2007, more than 56,000 training sessions have been executed to enhance skill and promote best practices when it comes to safety.
"Our training is what really sets us apart," said Layne Johnson. "We will have bleachers where people can sit and watch our training in action. We want contractors and the public to see why Local 49 trained workers are the best in the business."
With large-scale construction jobs happening now and on the horizon, this event is the perfect way for people from all aspects of the industry to come together and see the latest and greatest equipment and to witness how important the training of Local 49 members is to the overall success of these projects.
Local 49 Business Manager Glen Johnson said he is looking forward to the New Iron Expo as a way to educate everyone from children to veteran contractors about the ins and outs of the industry. He stated that the goals of this event range from showing a child the capabilities of a large piece of construction equipment to showing a contractor the benefits of working with union trained workers.
"The best part is that those in attendance can see up close what it is we do and how these jobs get done safely," said Glen Johnson. "The more exposure we can give the industry and especially the dedication we have to training, we think we can make a positive impact on all aspects of construction. This event is definitely a game changer."
New Iron Expo At-A-Glance:
What: A three-day exposition, free and open to the public highlighting the latest in construction technology and safety training.
Who: Nearly 100 vendor brands, including the biggest names in the industry will unveil latest trends and equipment.
When: Tuesday, April 3, Wednesday, April 4 and Thursday, April 5th 2018 from 8 a.m. to 5 p.m.
Where: Local 49 Training Center in Hinckley, Minnesota – a few miles east of Grand Casino Hinckley.
Why: Discover the latest equipment technology and watch real time demos of new products that are impacting construction efficiencies and effectiveness. In addition, seminars and examples of Local 49's unmatched training program will be on display.
About Us
The International Union of Operating Engineers, Local 49, is one of the largest unions in the Midwest, serving approximately 13,000 members throughout Minnesota, North Dakota and South Dakota. It represents engineers who operate cranes and heavy equipment used in highway and building construction, well drillers, equipment repair shops, welding shops, sand and gravel suppliers, counties, municipalities, hospitals, school districts and more. Since 1927, the union has been supporting members by providing good wages, benefits, ongoing job training and job security. For more information, go to http://www.local49.org or check out Local 49's Facebook page. To register or learn more about the 2018 New Iron Expo https://www.local49training.org/new-iron-expo/