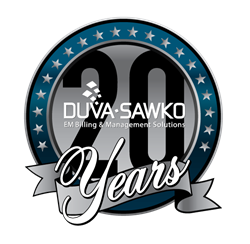 The team at DuvaSawko has taken all of the guess-work out of the billing and coding process and turned it into a simple user-friendly experience
ORMOND BEACH, Fla. (PRWEB) February 15, 2018
DuvaSawko recently announced an industry-first Revenue Calculator Tool designed to identify specific revenue growth opportunities for Emergency Medicine practices. This process examines key components of a practice's operations and uses industry-specific data-points to indicate areas of revenue improvement. "We have found that even the most experienced revenue cycle expert doesn't have a full grasp of how much money they are losing yearly, or even monthly for that matter…furthermore they're unable to isolate those issues and turn them around into a revenue-generating opportunity" – DuvaSawko CEO, Dr. Charles "Chuck" Duva.
The team at DuvaSawko has taken all of the guess-work out of the billing and coding process and turned it into a simple user-friendly experience. "It's easy to get mired down in the complexities of the revenue cycle process…What we've done is to create a process that uses only 3 data-points to determine where the opportunities for growth are. No other Emergency Medicine billing company has been able to do this, so we're very happy with the outcome of the tool." – DuvaSawko Head of Marketing, Christopher Morrison, MBA.
The Revenue Calculator targets both independent emergency medicine groups as well as hospital employed groups that are trying to identify areas of lost revenue and need a starting point in the process. The Calculator's simplistic approach takes the following data into consideration to generate potential revenue numbers:

Users enter the above information, and the Revenue Calculator makes assumptions on the facility's Payer Mix based on actual historical figures from DuvaSawko's data warehouse. Users can adjust the payer mix as needed to more closely align with their actual numbers. The result is an immediate analysis of the impact that DuvaSawko could have on their annual revenue.
Users also have the ability to email themselves a detailed report showing their input, and most importantly, the results of the calculator.
Try the DuvaSawko Revenue Calculator HERE or go to http://www.revcalculator.com.
About DuvaSawko
DuvaSawko offers a comprehensive suite of Revenue Cycle Management Services exclusively for Emergency Medicine physician groups. Our expertise centers around delivering exceptional service while producing up to 30% more revenue than our competitors. The People, the Process and the Technology are at the heart of the DuvaSawko Difference.
For more information visit http://www.duvasawko.com