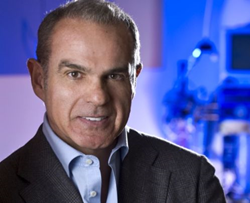 LOS ANGELES (PRWEB) February 12, 2018
Dr. Renato Calabria, renowned Beverly Hills plastic surgeon, has won the "Best of Los Angeles Award" for "Best Facelift Surgeon" 2018, adding it to his already long list of accolades. Dr. Calabria has been named one of "America's Top Plastic Surgeons" by the 2008 Guide to America's Top Plastic Surgeons written by the Consumers Research Council of America. He was also profiled in the best-selling book "The Beauty Makers" representing a small list of this country's best plastic surgeons, and he was nominated in 2005 for "Physician of the Year."
Dr. Calabria is known in the cosmetic industry as a man who has revolutionized facelift procedures, offering patients an "exciting alternative to traditional face lift surgery" – the "Vertical Facelift." "With traditional face lift surgery ("rhytidectomy"), facial fat is removed and excess skin is pulled in a lateral direction. The unnatural, 'wind swept' appearance of many face lift patients is caused by this technique," says Calabria, "but I offer a newer, less invasive method of facial rejuvenation. The Vertical Facelift surgery is performed through two discreet incisions. With the careful placement of sutures in a strategized position, the face can heal more rapidly and appear more youthful than with a traditional face lift."
Testimonials
"I can say with great certainty that Dr. Renato Calabria is one of Southern California's finest and talented leading plastic surgeons. He has been my Dr. for five years and I have come to know him personally. He has performed several surgeries on me, all of which, I have been more than happy with my results. In each case, his confident, pleasant and thorough nature afforded me a natural appearance. He and his staff have always provided and maintained a comfortable and professional atmosphere. I trust his capabilities, knowledge and experience, and would send any family member or friend to him without hesitation." Dan L. - Beverly Hills, CA
"Dr. Calabria is an artistically skilled and talented surgeon, of the finest caliber, who understands each individual patient's needs. His sensitive and caring persona and rapport towards his patients makes all the difference. Finally, his staff works hard to keep the patient happy from the consultation to the end result." Sandra S. - Santa Monica, CA
The "Best of Los Angeles Award" community was formed three years ago and consists of over 3,800 professional members living and working in Southern California. It celebrates the best people, places and things in Los Angeles with a slogan "No Ads. No B.S. Only the Best." (https://www.facebook.com/BestofLosAngelesAwards/)
"The mission of the community is to celebrate the best of Los Angeles, and allow its community members to connect with other members who share the highest standards of quality and integrity," said community spokeswoman Aurora DeRose.
"I am honored to receive this award from the Best of Los Angeles," says Dr. Calabria. "I work hard every day to deliver the best possible results for my clients."
To learn more about Dr. Calabria and his facelift procedures please visit: https://www.drcalabria.com/procedures/facelift/