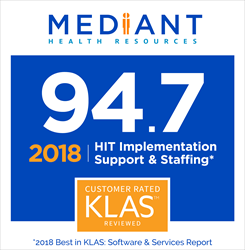 "KLAS Research provides an excellent barometer for customer satisfaction," said Mediant founder and president Michael Primorac, "and we're pleased that our drive to always improve continues to deliver."
PHOENIX (PRWEB) February 14, 2018
Mediant Health Resources, a leading health IT support and staffing company, is pleased to announce they have earned a Top 10 ranking on KLAS Research's "Best In KLAS 2018: Software & Services" report in the "HIT Implementation Support & Staffing category." This marks the second time that Mediant has been reviewed by KLAS for that category as well as Mediant's second Top 10 ranking therein.
"KLAS Research provides an excellent barometer for customer satisfaction," said Mediant founder and president Michael Primorac, "and we're pleased that our drive to always improve continues to deliver." Mediant Health Resources earned an overall satisfaction score of 94.7% in the 2018 report, and climbed four spots in the ranking since last year.
The widely respected KLAS' healthcare IT rankings are an established industry standard. Each year KLAS draws on in-depth feedback from tens of thousands of healthcare professionals across a diverse array of disciplines. From this expansive data KLAS provides accurate assessments of vendors and solutions across the healthcare continuum.
"We're excited that our clients have indicated their satisfaction with the services we provide," said Mediant Vice President of Client Services, Franjo Zovko. "We put strong emphasis in providing the best experience and performance possible for the healthcare organizations who partner with us, and this year's KLAS report reinforces that we are meeting that goal."
About Mediant Health Resources
Mediant Health Resources specializes in health IT support and staffing solutions. With more than three decades of healthcare consulting excellence, Mediant has cultivated an established and growing reputation for providing the most knowledgeable and effective consultants in the industry to meet any payer or provider's health IT needs.
About KLAS
KLAS is a data-driven company on a mission to improve the world's healthcare by enabling provider and payer voices to be heard and counted. Working with thousands of healthcare professionals, KLAS collects insights on software, services and medical equipment to deliver reports, trending data and statistical overviews. KLAS data is accurate, honest and impartial. The research directly reflects the voice of healthcare professionals and acts as a catalyst for improving vendor performance. To learn more about KLAS and the insights we provide, visit http://www.KLASresearch.com.