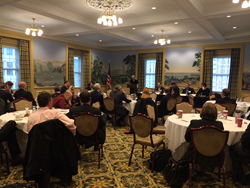 New York, NY (PRWEB) February 15, 2018
The Wall Street Technology Association (WSTA®), a not-for-profit organization that provides financial industry professionals a forum to learn from and connect with each other, will host a panel discussion on "Operational Efficiency with Use of the Cloud" on February 28, 2018 in New York City with moderator Raja Chris, Head of Infrastructure, Annaly Capital Management and a WSTA Director. Panel sponsors include: appOrbit, Densify, Red Hat, ZeroStack; and Breakfast Sponsor: Rubrik. For more information, visit: https://www.wsta.org/events/event/operational-efficiency-use-cloud/
Panel Discussion Overview
Cloud offers a mature utility model today. Its services are based on defined elasticity, responsiveness, metric, cost, security and resilience.
Capital Market firms have now taken the leap of faith in transferring business-critical workloads to the cloud provided by third parties. Many of these workloads use sensitive data and demand high performance. While this improves the operational efficiency, the responsibility of running a high-risk, high-volatility, high-quality operation still remains with the firms. To protect the brand as well as the bottom line, optimal choices need to be made on the selection of business functions, locations, interfaces, tenancy, providers and service contracts. Migrations to the cloud need transformational frameworks and selective re-engineering. Orchestrations of many moving parts are required to derive and protect the operational efficiency promised by the cloud. This panel will discuss lessons learned on recent transitions to the cloud as well as cutting-edge business capabilities which demand bridging the in-house technologies with third-party cloud services and external data.
Profile
The Wall Street Technology Association (http://www.wsta.org) provides financial industry technology professionals, vendors, service providers, and consultants forums to learn from and connect with each other. The WSTA facilitates educational and networking events where members meet and exchange ideas and best practices that assist them in effectively capitalizing on technology advances and dealing with financial industry business challenges. Founded in 1967, the WSTA is a not-for-profit association with a long history of evolving to meet the needs of its members.
The WSTA hosts seminars, roundtables, panel discussions, and social events. These events offer many opportunities to stay on top of leading technologies, as well as network and share information with industry colleagues. The WSTA's monthly educational Digital News provides additional content and information about the WSTA and industry-related activities. The website is a dynamic resource for keeping on top of the latest information and offers access to additional resources including webinars, white papers, articles, videos, and information about other industry events.