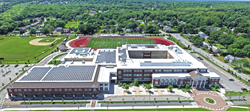 "We're seeing an acceleration of solar energy adoption by municipalities, schools and nonprofits across Massachusetts," said Matt Shortsleeve, Vice President of Development at Solect Energy. "Its no wonder, when you take a look at the substantial savings solar delivers."
HOPKINTON, Mass. (PRWEB) February 13, 2018
Solect Energy, the state's leading commercial-scale installer of solar energy systems, is seeing an acceleration of solar energy adoption by municipalities, schools and nonprofits across Massachusetts. Working in conjunction with PowerOptions, the region's largest energy buying consortium, Solect has already installed 4.2 megawatts (MW) for various schools, nonprofits and municipalities, and is on track to install another 4.5 MW under the SREC-II program for a total of 8.7MW. Aggregating their current base of installed systems under the Solect & PowerOptions Solar Program, it is projected that the two companies will save these institutional, educational and municipal customers more than $20 million over the course of their 20-year agreements.
Municipalities, schools, housing authorities, and human service organizations cannot capture federal tax benefits for renewable energy systems on their own, as nonprofits. However, working with PowerOptions and Solect, these customers are able to finance and construct their solar arrays with no up-front investment through a Power Purchase Agreement (PPA).  Under the PPA, Solect installs, owns and operates the solar arrays, and sells the power generated back to the entity at a reduced, fixed rate for the duration of a 20-year agreement.  
"What makes a PPA so attractive for cities, towns, and schools is they can leverage the RFP Solect won with PowerOptions, and avoid the cost, time and expertise needed to conduct their own RFP," said Matt Shortsleeve, Vice President of Development at Solect Energy. "The Solect /PowerOptions PPA complies with state procurement regulations, and offers outstanding savings and contract terms for the customer."
Currently, Massachusetts ranks fifth nationally in K-12 school solar adoption according to a Nov. 2017 report from the Solar Energy Industries Association (SEIA) and The Solar Foundation. Across the state, more than 260 schools have installed nearly 54MW of solar.
MassSolar projects that 82% of schools in Massachusetts can save money by "going solar" and there is a potential for another 2,000 installations totaling 148 MW. If every school in Massachusetts that could go solar did, an estimated $74 million could be saved over the life of the projects. They also report that 175 cities and towns in Massachusetts host one or more of their own solar projects. The more than 400 municipal projects have a combined capacity of over 340 MW.
"At PowerOptions, we aim to support the public entities and nonprofits that are serving our communities by making solar energy more accessible with offerings like our Solar Program," said PowerOptions President and CEO Cynthia Arcate. "In addition to cost predictability and savings, schools and nonprofits can implement their solar projects without the need for any upfront costs or ongoing maintenance responsibilities."
Recent high-profile installations include:

Fitchburg Public Schools installed two rooftop solar systems totaling 603 kilowatts (kW) on its Reingold Elementary School and Memorial Middle School. The savings forecast for both the Reingold Elementary School and the Memorial Middle School is nearly 1 million dollars combined over the term of the agreement. As an early adopter of solar, Fitchburg Public Schools was able to take advantage of the existing state incentive program and maximize their savings without any out of pocket expenses.
Fairhaven Housing Authority (FHA), a public housing provider, installed a 236 kilowatt (kW) solar energy system on the roof of its largest housing complex. FHA anticipates the array will provide up to 40 percent of the facility's annual electricity, and projects $467,000 in savings over the life of the 20-year agreement.
The City of Haverhill installed a 170 kilowatt (kW) rooftop solar system on its City Hall, and an 80 kW rooftop solar array on the city's maintenance garage. The installations will allow Haverhill to reduce its energy costs and become more sustainable.  With the installation of the rooftop arrays, the city now expects to save approximately $22,000 annually.
The Somerset Berkley Regional School District installed a 348 kilowatt (kW) solar energy system on the roof of its regional high school. The array is expected to cover up to 20 percent of the school's annual electricity use, and to save the school approximately $20,000 in year one on its energy expenses. The school anticipates nearly half a million dollars in savings over the term of the agreement, for zero money out of pocket.
"The District is continually looking for ways to reduce operating costs in order to shift more resources to students," said Lindsey Albernaz, Director of Business and Finance for Somerset Berkley School District. "Utility costs are an expense that is constantly fluctuating. Working with Solect, we were able to reduce operating costs without having to pay the upfront costs of installation."
About PowerOptions
PowerOptions is a nonprofit energy buying consortium that delivers cost savings and predictability to nonprofits and the public sector in New England. Headquartered in Boston, PowerOptions serves its nearly 500 members with electricity, natural gas and solar, with combined annual energy sales of approximately $200 million. With a 95 percent member retention rate, a proven supplier selection process and a dedication to personalized customer service, PowerOptions provides programs, services and solutions that educate and bring value to its membership. Established in 1998, any nonprofit or public institution in Massachusetts, Rhode Island and Connecticut is eligible to participate in this collective purchasing effort. For more information, visit http://www.poweroptions.org or follow on Twitter at @PowerOptions.
About Solect Energy
Solect Energy, based in Hopkinton, Massachusetts, is the recognized leader in commercial-scale solar. We develop smart, customized strategies based on a deep assessment of each customer's energy needs and requirements, then deliver solar design and installation solutions, operations and maintenance services, and the most advanced energy storage systems. Solect offers proven expertise in development, technology, policy, and incentives, as well as individualized financial guidance. Our practical, systematic approach helps businesses and organizations reduce energy costs and optimize their solar investment. To date, Solect has installed over 80 megawatts of commercial PV systems, with a focus on commercial, light industrial, and institutional properties throughout New England. For more information, visit http://www.solect.com or follow us on Twitter at @SolectSolar.
###