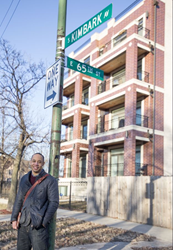 Our strategy has been to build properties that offer an exceptional level of amenities for the price we ask and to show potential buyers there is a long-term upside to buying here
ELGIN, Ill. (PRWEB) February 14, 2018
Things are looking up in Chicago's Woodlawn area these days, as Hasani Steele will gladly tell you. But he'll also confirm that it's been a long road to get here and there's still some distance to go as this South Side community seeks to reach its full potential.
Steele, a broker with RE/MAX Premier Properties of Chicago and head of the Steele Consulting Group, has been working and investing in Woodlawn for more than a decade. He can't help but feel excited at the attention the neighborhood has garnered because of plans announced last year to locate the Obama Presidential Library and a new Tiger Woods-designed championship golf course in Jackson Park on Woodlawn's east side.
"Both those projects are great additions to the community," said Steele. "They are just part of a continuing process typical of emerging areas that have suffered from disinvestment but now have an opportunity to play important roles in the future of Chicago."
Disinvestment is a fancy word for community decline that saw the population of Woodlawn fall by 70 percent, from 81,278 in 1960 to 23,587 in 2010. At that point, by one estimate, Woodlawn contained 350 abandoned buildings and 150 acres of vacant land.
Even so, noted Steele, Woodlawn retained the intrinsic advantages that have helped spark recovery in the wake of the Great Recession. Stretching from Lake Michigan west to King Drive and from 61st Street to 67th Street, Woodlawn has easy access to both Jackson and Washington Parks, as well as to Lake Shore Drive, the Dan Ryan Expressway and the Chicago Skyway. It is served by Metra trains and the CTA Green Line, and rubs shoulders with the University of Chicago, which opened a Woodlawn campus of its University of Chicago Charter School at 6420 S. University Ave. in 2017.
To reach its full potential, Steele believes Woodlawn needs the mix of commercial, residential and public amenities that create a supportive environment for living.
Steele focused his efforts on the residential component. Since 2007, his organization and the builders he represents have completed 33 condominium units and eight single-family homes. The projects have been a mix of new construction and gut rehab, and Steele and his partners have acquired more than 20 single or double lots in the community.
Those lots seem to have been a good investment because values appear to be on the rise in Woodlawn. The median sales price of residences there increased from $44,500 in 2010 to $140,000 in 2017, a 217 percent increase.
Steele wanted to do enough development in one area to have a substantial impact on the community, and he has concentrated his efforts in East Woodlawn, which is bounded by Cottage Grove and Stony Island avenues and 63rd and 67th streets.
"That has been our focus for the last decade, but long term our vision includes adjacent areas," Steele acknowledged. "We are working on plans for West Woodlawn and for South Shore."
His success in Woodlawn to date reflects a realization that it was essential to compensate for the negative perceptions about the South Side.
"Our strategy has been to build properties that offer an exceptional level of amenities for the price we ask and to show potential buyers there is a long-term upside to buying here," he explained.
"Our buyers are basing their purchase more on what the property itself offers, and less on current neighborhood amenities. It's the individual home that is the star of the show -- its design and construction quality must be as good or better than any comparable home. Because the land is so much less expensive here, the buyers get an outstanding value. They can have the home of their dreams at a price that makes sense for them. They see it as a smart decision because they are getting a level of value unobtainable in Hyde Park, the South Loop or much of the North Side."
In an emerging market, Steele believes, each new development must be tailored to its specific site. Too often, he said, "Experienced developers come into Woodlawn with a preconceived notion of what they will build, and it is something that doesn't really work here. We don't do it that way."
Instead, Steele starts by designing a product that is attractive to buyers seeking to buy a long-term home.
"The buyers we build for want many things, but in a broad sense they want a home that is thoughtfully designed and offers considerable appreciation potential, and that's what we deliver in Woodlawn."
One of Steele's early Woodlawn buyers was Jacquelyn James, an insurance executive who grew up in Chicago. When James moved back to the area after working in Maryland, she wanted to buy a condominium and was referred to Steele, who assisted with her search.
"We looked at properties all over the city – north and south – and initially I wasn't interested in moving south of Hyde Park," James recalled. "After I'd seen many places, Hasani convinced me to consider the development he was marketing at 6507 S. Kimbark Ave. in Woodlawn. I fell in love with it immediately. It had everything I wanted and was affordable. I then did my research on the area, talking to neighbors about things like safety and the other issues. I liked what was happening."
James bought her three-bedroom unit in 2009 and sold it last November because her job is taking her back to Maryland. Over the eight years she lived there she saw Woodlawn changing for the better.
"I've seen young professionals moving in and increased community involvement by both new and long-time residents," said James. "I haven't found safety to be a major issue because there is a strong police presence. What we really have needed is more retail, especially the continued improvement of the 63rd Street commercial strip."
James isn't imagining the positive changes in Woodlawn. From 2010 to 2015, the community has added an estimated 2,859 residents. It was named the 2016 Neighborhood of the Year by readers of the online site Curbed Chicago, and it is getting safer. Crime in Woodlawn peaked in August 2005 when 589 crimes were reported, and that number declined 70 percent to 161 in November 2017.
Attracting restaurants, entertainment options and a range of retail stores to Woodlawn will go a long way toward making it even more inviting to residents and investors, Steele believes.
"The new Jewel-Osco, planned for the corner of 61st and Cottage Grove, will be an exciting addition, so we're making huge progress, but challenges remain. With crime demonstrably declining, this area has a much better opportunity to attract more investments of that type, which are vital to Woodlawn's future," said Steele. "The perception of this area is changing, and the pace of that change is increasing, which is why we continue to see Woodlawn as a great investment opportunity and an excellent place to call home."
RE/MAX Northern Illinois has been the leader in the Northern Illinois real estate market since 1989, providing a full range of residential and commercial services. With more than 2,200 sales associates and 105 offices throughout the area, RE/MAX Northern Illinois has helped thousands of families with their home buying and selling needs. For more information, visit illinoisproperty.com or download the Illinois Property mobile real estate app.
EDITOR'S NOTE: RE/MAX® is a registered trademark. Please spell in all caps. Thank you.