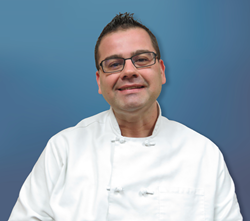 ALBUQUERQUE, N.M. (PRWEB) February 22, 2018
Isleta Resort & Casino is proud to announce the appointment of Embers Steakhouse Executive Chef John-Pierre Vincent. Chef Vincent brings to the Embers kitchen an unparalleled zest for cooking, fostered by a childhood spent helping his French grandmother prepare nightly meals.
Pursuing a destiny he knew he was meant for as a child, Chef Vincent has worked with fine dining restaurants and world renowned hotel companies in Europe and America. His rich experience includes time at properties such as the Ritz-Carlton, the Hilton Hotel, and other 5-Star, 5-Diamond, and Michelin rated properties. Due to his extensive background, Chef Vincent was offered the position of Chef Instructor at Le Cordon Bleu Academy of Culinary Arts in Miami, FL. During that time he worked as a Private Chef and then started working for large Country Clubs before he came to New Mexico and worked at the El Dorado in Santa Fe.
A native of Caracas, Venezuela, Chef Vincent speaks five languages, and is proud to now call New Mexico home. He joins other family members also living in the Land of Enchantment, and offers his unwavering enthusiasm for serving the appetites of guests from around the country.
Embers Steakhouse features upscale cuisine with an unbeatable view of the Rio Grande Bosque. Guests hoping to enjoy Chef Vincent's creations are encouraged to make reservations by simply calling (505) 244-8288.