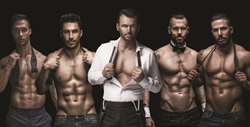 Not only will I be hosting and dancing with the iconic Chippendales but I will have the opportunity to bring my own creative vision to the show by choreographing a number or two
LAS VEGAS (PRWEB) February 13, 2018
From Dancing with the Stars to guest hosting the sexiest male revue on the strip – the world famous Chippendales are thrilled to announce their latest celebrity guest host, Dancing with the Stars professional dancer & Mirror Ball Champion, Tony Dovolani. In addition to hosting the show, Dovolani will be working with the production's creative team to choreograph parts of the show in which he will be featured. Dovoloni's limited engagement with the legendary Chippendales runs for six weeks only, from April 19 through May 27, 2018, at Rio All-Suite Hotel & Casino. If you've seen him over his 21 seasons on Dancing With the Stars, then you know Dovolani's infectious smile, sexy moves, and a charismatic flair are sure to light up the Chippendales stage.
"I am so excited to be joining Chippendales Las Vegas this spring," says Dovolani. "Not only will I be hosting and dancing with the iconic Chippendales but I will have the opportunity to bring my own creative vision to the show by choreographing a number or two," added Dovolani. Dovolani will also be giving back to those in need by donating a portion of his salary to The Tony Dovolani Foundation. The Foundation's mission is to raise funds to support families that are facing the many challenges, including financial ones that come along with raising a child with special needs.
"We are really excited to have Tony joining us as not only our celebrity guest host and dancer in Las Vegas, but as a creative team member," commented Chippendales Managing Partner, Kevin Denberg. "After seeing his tremendous talent and charm on Dancing with the Stars, I'm certain both his presence and artistic input will be a great addition to our award winning production at Rio."
Dovolani is the latest celebrity to join the exclusive roster of guest hosts at Chippendales. From international supermodel Tyson Beckford to everyone's favorite childhood crushes, Ian Ziering and Joey Lawrence, to Dancing with the Stars and America's Next Top Model champ Nyle DiMarco, every celebrity guest who's ever donned the brand's iconic cuffs and collar has brought his own unique flavor of excitement to sold-out audiences.
In November 2017, Chippendales was honored for the sixth consecutive year as the "Best Male Revue" at the prestigious Best of Las Vegas! Awards. The show, which features heart thumping choreography and multiple opportunities for audience members to get on stage, is an all out party and provides the perfect backdrop for a Girls Night Out in Las Vegas. Whether looking to celebrate a bachelorette party in Las Vegas, a big birthday bash or just a have wild girls night out, Chippendales Las Vegas is the strips number one spot to let loose and have fun.
About Tony Dovolani:
Tony Dovolani joined "Dancing with the Stars" in the second season and quickly became a fan favorite with his stellar choreography, elegance and bright smile. Tony and his dance partner Melissa Rycroft were season 15 "Dancing with the Stars: All-Stars" Mirror Ball Trophy champions. Tony is busy traveling across the US spending time with his DWTS fans, teaching and coaching at his 11 Dance with Me USA studios (co-owned with Maksim and Val Chmerkovskiy), judging professional competitions and hosting a variety of corporate and private events. Tony is honored to serve on the PGA Player and Coaching Development Committee and looks forward to contributing to the future of professional golf. He enjoys hitting the links playing in Pro-AM and charity tournaments. Tony established the Tony Dovolani Foundation: Golf for Special Needs Children, which combines his passion for golf with helping others. Tony will be teaching the Salsa, Rumba, Tango and Cha Cha along with hosting special gatherings including his birthday celebration on July 17th.
Tony is a frequent guest host for "EXTRA" and the Golf Channel's "The Morning Drive." He has been a frequent guest on "Good Morning America" sharing his expertise as he recaps and comments on "Dancing with the Stars" performances. He guest starred on TV Land's "The Exes" and did a cameo appearance on CBS TV's "Kevin Can Wait." He played Latin bad boy competitor, 'Slick Willy,' in the hit film "Shall We Dance." He choreographed the 2012 Miss Nevada pageant and was one of the 2011 Miss America judges. He choreographed and performed Paso Doble for Pixar's "Toy Story 3". The routine, danced to the Gypsy King's Spanish take on "You've Got a Friend in Me (Para Buzz Español)," provided the inspiration behind a dance sequence featuring Buzz Lightyear and cowgirl Jessie. Born in Prishtina, Kosova, Tony began folk dancing at age three. He was 15 when he and his family moved to the United States. He attended Fred Astaire Dance Academy and knew he had found his passion. Tony has been a strong and successful competitor in the professional ballroom dancing world holding several world and USA championship titles. Twitter: @tonydovolani
About Chippendales:
Named "the most-wanted men in Vegas!" by ET's, The Insider, Chippendales captures the perfect balance of sex appeal and tasteful teasing, eliciting waves of screams from their excited audience. This high energy, fully choreographed, interactive show features some of the most physically elite men in the world who playfully dance and sing their way into the hearts of birthday girls, bachelorettes and girlfriends who just want to have fun. In November 2017, for the sixth consecutive year, Chippendales was named the "Best Male Revue" for the Las Vegas Review Journal's prestigious "Best of Las Vegas Awards." Annually, the Men of Chippendales will be seen by almost two million people worldwide. The cast, a very exclusive fraternity of only 20 members, is split across two productions – one based in Las Vegas at the Rio All-Suite Hotel & Casino and the other, currently selling out venues around on their world tour. As icons of American Pop Culture, The Chippendales recently celebrated their 35th Anniversary as a brand and in 2017 celebrated 15 years at Rio All-Suite Hotel & Casino. They've been featured on numerous national television shows, including the Emmy Award-winning CBS series, The Amazing Race, The Ellen DeGeneres Show (where TV legend Betty White received a special surprise performance), and The Real Housewives of Beverly Hills (giving Lisa Vanderpump a night she will never forget). Previous celebrity guest hosts featured in the Las Vegas production include international supermodel Tyson Beckford, Dancing with the Stars and America's Next Top Model winner Nyle DiMarco, Beverly Hills 90210 and Sharknado star Ian Ziering, and Joey Lawrence, among others. Chippendales, one of the world's most recognized brand names, is the premier provider of entertainment for women. The Company produces Broadway-style shows worldwide and licenses its intellectual property for select consumer products ranging from apparel and accessories to slot machines and video games. The company also operates Chippendales.com, an on-line lifestyle and entertainment destination for women. Chippendales® was established in 1979 and has headquarters in New York, with offices in Las Vegas and London. For additional information visit http://www.Chippendales.com; find us on Facebook, Twitter and Instagram @Chippendales #Chippendales.
Rio All-Suite Hotel & Casino
Rio All-Suite Hotel & Casino, home of the World Series of Poker, offers guests a unique all-suite hotel experience. Complete with 2,522 all-suite hotel rooms – including the Samba suites and the luxurious Palazzo Villas with a private entrance – the property overlooks the Las Vegas Strip and sits one block west of the famed boulevard. A variety of entertainment options at the resort include headliners Penn & Teller, the world-famous Chippendales and the internationally-acclaimed water production, WOW. Additionally, Rio Las Vegas is home to family-friendly attractions such as the VooDoo Zip Line, an adrenaline-rushing thrill ride that offers a 360-degree panorama of the famous Strip from 490 feet above the ground, as well as KISS by Monster Mini Golf. The off-Strip resort features a diverse array of dining and nightlife experiences including the new Guy Fieri's El Burro Borracho, VooDoo Steak, Wine Cellar & Tasting Room, Hash House A Go Go, KJ Dim Sum & Seafood, iBar, VooDoo Beach and VooDoo Rooftop Nightclub, which offers panoramic views of The Strip. For more information, please visit riolasvegas.com or the Caesars Entertainment Las Vegas media room. Find Rio All-Suite Hotel & Casino on Facebook and follow on Twitter and Instagram.
Chippendales Performance Schedule at Rio All-Suite Hotel & Casino:
Chippendales performs nightly at 8:30 p.m., with additional shows on Thursday (beginning April 12th, 2018) Friday and Saturday at 10:30 p.m. Tony Dovolani's Chippendales residency begins Thursday, April 19, 2018 (Thursday through Sunday night performances only) through May 27, 2018. Tickets range from $54.95 to $82.50 + tax and fees (18+) and can be purchased by calling (702) 777-7776 or by visiting http://www.Chippendales.com.
# # # # #
PRESS CONTACTS:
For Chippendales: Michael Caprio
Phone: (702) 658-6691 office; (818) 917-8086 cell
Email: mc@capriomediadesign.com
For Rio All-Suite Hotel & Casino: Talia Rothman
Phone: (702) 308-8172
Email: trothman@caesarspalace.com