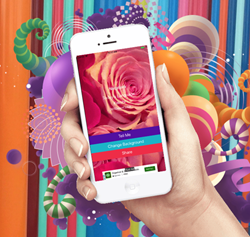 Today, tomorrow, and every day, we simply ask that the love is shared wherever one goes, and together we will raise the vibration of love on the planet!
LAS VEGAS (PRWEB) February 14, 2018
Vocal Swarm Media today announced it has released a free app called 365 Days Of Love. The theme of the app is that everyday users will receive a new language with which to say, "I Love You."
Alicia Mejia, founder of the app stated, "It's my mission in life to raise the vibration of love on the planet. Love is in our DNA and I believe it's the red thread that connects us as humans. The 365 Days of Love app put the ability to express love in the palm of your hand, delivering a new language with which to say 'I love you' daily. Now you can share love with any person, any time, in any language. And together, we'll raise the vibration of love."
Users can choose from a curated selection of love-centric images within the app ranging from Parisian Love Locks on the Pont des Arts in Paris, red balloons from the Palazzo in Vegas, to a heart-shaped stone on the shores of Capurganá, Columbia. For a personalized touch, participants have the option to pull from their own photo archive and share their love language of the day using a personal image of what love means to them.
Mejia further stated, "I believe in seeing love everywhere. And I believe in finding the beauty in all things. When we pair the two, anything is possible. The 365 Days of Love app allows users to put love into action, in any language."
LEARN HOW TO SPEAK I LOVE YOU
The 365 Days of Love app also speaks, allowing participants to learn the phrase and say it aloud to themselves—or others. Even to total strangers who may not know that, "nakupenda," means, "I love you," in Swahili. If a simple hello could lead to a million things, imagine what's possible when a conversation begins from a place of love.
HOW TO GET IT
The 365 Days of Love app can currently be downloaded for free on iOS in the the App Store and is expected to be released soon on Google Play so users can share with their Valentine, friends, and family in time for February 14th. Users can have even more fun by enabling notifications to receive a random, never-repeated dose of love daily.
Press Contact:
Name: Alicia Mejia
Mobile: 702.978.9736
Email: Alicia(at)365Daysof(dot)Love