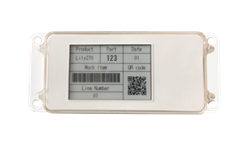 This new product is set to change the way factories have been operating.
TAIPEI, Taiwan (PRWEB) February 15, 2018
Until now, the applicability of updating e-paper display tags has been constrained to short-to-mid ranges due to the limitations of existing communication standards, both open (Wifi, Bluetooth, Zigbee) and proprietary.
By integrating Weightless™ LPWAN (Low Power Wide Area Network) distinctive advanced downlink features with high-readability e-paper displays, Ubiik breaks the ground for ultra low-power wireless signage over a much longer range than previously possible:

More than 1.5km outdoor line-of-sight (e.g., a whole campus),
More than several hundred meters indoor (e.g., a whole assembly floor),
With typically 2 years of battery life on coin cell batteries.
"We are so excited by this new product that is set to change the way factories have been operating with regards to information display such as work instructions, inventory management, or product tracking," said TH Peng, CEO of Ubiik. "Our customers in the industrial and smart city sectors have for a long time been waiting for a product like this. We are thrilled that by combining advanced LPWAN connectivity and e-paper we have now made this breakthrough product to serve their respective usages."
"ePaper applications have diversified vastly in the recent years. We are very pleased to see more and more partners joining the ePaper ecosystem and innovate." said Johnson Lee, president of E Ink, "We are delighted to co-work with Ubiik dedicated to develop wireless ePaper tags, support long-range and provide alternative business solutions. With the rapid growth of the IoT market, we believe the innovative LPWAN technologies with long-range could enable ePaper applications in many more smart spaces."
The Starter Kit of Ubiik's revolutionary Weightless™-enabled 2.7" inch Long-Range e-paper is now available for purchase. Pilots and demonstrators are currently being arranged for Japanese and European partners. The Ubiik Weightless™-enabled 4.2'' e-paper tag will be available in Q2 2018.
Ubiik will exhibit a Weightless™-enabled LPWAN e-paper demonstrator at the Mobile World Congress 2018 in Barcelona from February 26th to March 1st with ecosystem partner Applus+, worldwide leader in testing, inspection and certification. Hall 7 Stand 7J81.
About Ubiik
Ubiik is the leading wireless monitoring solutions provider for the Industrial Internet of Things (IIoT), having pioneered the development of Weightless™ Low Power Wide Area Networks (LPWAN) technology. Industrial customers worldwide have chosen Ubiik for electricity metering, factory sensors, energy monitoring, logistics, smart city, or agriculture projects. Products delivered are IoT total solutions (including Cloud and Analytics), end-user connected objects (Connected-Epaper, GPS tracker), or Weightless™ communication technology (Base Station, End Device modules, Starter Kits). Established in 2016, Ubiik is headquartered in Hsinchu, Taiwan and has offices in Osaka, Japan. http://www.ubiik.com
About Weightless SIG
The Weightless SIG is a non-profit global standards organization formed to coordinate the activities needed to deliver the world's best IoT connectivity technology. Ubiik is one of its board members. http://www.weightless.org
About E Ink Holdings
E Ink Holdings Inc. (8069.TWO), based on technology from MIT's Media Lab, has transformed and defined the eReader market and is redefining the signage, architecture and design, mobile, wearable and retail markets with its ePaper technology, enabling a new multi-billion dollar market in less than 10 years. Its corporate philosophy aims to deliver revolutionary products, user experiences and environmental benefits through advanced technology development. This vision has led to its continuous investments in the field of ePaper displays as well as expanding the use of its technologies into a number of other markets and applications including smart packaging and fashion. Its Electrophoretic Display products make it the worldwide leader for ePaper. Its Fringe Field Switching (FFS) technologies are a standard for high-end LCD displays and have been licensed to all major liquid crystal display makers in the world. Listed in Taiwan's Taipei Exchange (TPEx) and the Luxembourg market, E Ink Holdings is now the world's largest supplier of ePaper displays. For more information please visit http://www.eink.com