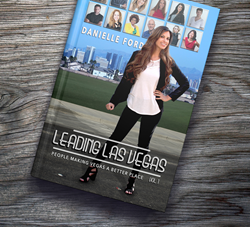 Las Vegas is home to many remarkable leaders and I'm very excited to showcase them in the first of several books to come.
Las Vegas, Nevada (PRWEB) February 15, 2018
Danielle Ford, an online marketing strategist and host of "Leading Las Vegas", announced today her first book titled, Leading Las Vegas in conjunction with a bid for CCSD School Board Trustee District F, representing the southwest part of the Las Vegas Valley. The current trustee Carolyn Edwards cannot run for re-election due to term limits.
The book Leading Las Vegas – Real People Making A Difference In Las Vegas, is a recap of the show; Danielle Ford picks a select group of her guests to highlight and discuss how their skills, talent, and leadership are helping to transform Las Vegas into a better place.
Some of the local leaders featured in the book include Tiger Todd, Sandi Herrera, JD Scott, Ruth Hedges, and Jeff Horn.
Danielle Ford asks her guests in-depth, industry-specific questions that are professionally presented in an easy to understand and intelligent format. She highlights their professional contributions to not only the local community, but also to their respective fields of expertise.
During the announcement of the book pre sales, Ford also revealed that a portion of the sales are going to be used to fund her campaign for CCSD School Board Trustee District F. Several other candidates are expected to run including David Gardner, a former assemblyman, who lost his bid for re-election to Steve Yeager.
The online marketing strategist, who feels the system let her down while she attended schools in Clark County currently has two children attending CCSD Schools. She still sees room for improvement and seeks to address a variety of issues such as: the allocation of the money from taxes to grants; administrative vs. teacher pay; sex education; and the lack of resources for mothers still in high school.
According to readers of the book, from the very beginning, readers become captivated by Danielle's choice of impactful leaders, coaches, and influencers who are transforming the Las Vegas scene. Leading Las Vegas – Real People Making A Difference In Las Vegas, will inspire all to be career-resilient, sustain practice success, and always lead to make a difference.
ABOUT DANIELLE FORD
Danielle Ford is a video & marketing strategist who writes her own rules, and gives both permission and a platform to stop playing small... and start making a difference in the world.
Divorced with 2 kids by the age of 21, Danielle designed her own life after closing down a brick and mortar skincare studio to work from home. She worked as a spokesmodel and had a greater interest in what went on behind the camera than in front. Danielle combined that video expertise with her belief in the earth-moving power of marketing.
Founder of Young Mom's Club, TedX speaker, host of "Leading Las Las Vegas" and a Vegas Inc. "Woman to Watch", Danielle gives her clients efficient systems that automate the sales process, sell out programs and events, and add unexpected revenue streams. She gives entrepreneurs more hours in the day to stay in their zone of genius and do their part to change the world.
RELEVANT LINKS
View The Official Book Announcement Here
https://m.youtube.com/watch?feature=youtu.be&v=b6jv1x-_Yik
Leading Las Vegas Vol 1 Pre Sale Order Page
http://leadinglasvegas.com/book
Contact:
Abi Wright
702-533-4532